12 Clemson falls to Va. Tech 80-77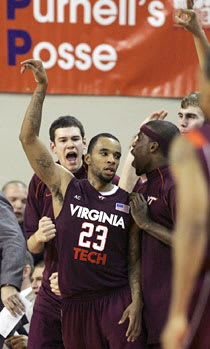 CLEMSON - - The pain shot through Malcolm Delaney's arm as he stayed down on the court at the Littlejohn Coliseum. The Virginia Tech star wasn't coming out, no matter how much he hurt.
"I've got to be tough in these type of games," Delaney said.
No one was tougher than Delaney on Wednesday night. He scored 26 points, 17 in the second half, as the Hokies broke a three-game losing streak with an 80-77 victory over No. 12 Clemson.
The Tigers (22-5, 8-5 Atlantic Coast Conference) had a final shot to tie the game, but Demontez Stitt missed a desperation 3-point try.
The Hokies jumped on the court with Delaney leading the cheers. And why not? His latest performance capped an amazing two games against the Tigers this season. He had 37 points last month -- still tops in the ACC this year -- in Clemson's 86-82 win at Blacksburg.
Delaney had already keyed Virginia Tech's second-half rally when he collided with Trevor Booker and went to the court. He grabbed his side and rocked in pain. Slowly, he stood up and walked off his problems. Moments later, Delaney finished the three-point play, then added two more free throws that put Tech up 68-61 with 9:21 to go.
"I know he's a tough guy," Hokies forward A.D. Vassallo said. "I knew he was going to get up and play."
Kind of what the Hokies (17-10, 7-6) need to keep doing the rest of the way to make the NCAA tournament.
"If we win a couple of more games, I don't see how they can keep us out," Delaney said, smiling.
For a while, it looked like Virginia Tech was going to continue its late-season fade and the run of close losses to the Tigers.
The Tigers had control most of the opening half and were ahead 47-43 after K.C. Rivers 3-pointer early in the second. Then came breakdowns on Clemson's defense.
Vassallo connected on three, mostly wide open 3-pointers over a 2-minute span and the Hokies locked down on Booker, who had 15 points in the opening half and only six in the final 20 minutes.
Delaney didn't start out well, shooting 3-of-10 from the field for nine points in the first half. He and his teammates picked up the pace in the second half. Delaney hit three of his four 3-pointers down the stretch and the Hokies were 7-of-11 from behind the arc in the second half.
Terrence Oglesby had 22 points, including six 3-pointers, for Clemson. However, he couldn't get free on the Tigers' final play and Stitt had to force up a wild shot that did not have a chance of going in.
Booker had 21 points and 13 rebounds, his 10th double-double of the season, and Rivers had a double-double with 11 points and 10 rebounds.
The Tigers lost the chance to notch consecutive winning seasons in ACC play for the first time in 40 years and just the second time ever. The road won't get easier with a trip to No. 23 Florida State on Saturday.
"I give them credit," Clemson coach Oliver Purnell said. "We came out of the blocks well, but they were tough and came up with big plays."
Vassallo added 21 points for Virginia Tech, which had lost its past four games to Clemson.
Delaney's free throw broke a 68-all tie with 6:42 to go. He hit his last 3-pointer with 3:35 remaining to put the Hokies ahead 75-70.
But this is a series that almost always goes down the wire -- the past seven games have been decided by five points or less -- and this one was no different.
Delaney missed a close-in shot in the final minute that Booker converted into a breakaway layup to bring the Tigers within 78-77.
Vassallo added Virginia Tech's final points moments later with two free throws, setting up Clemson's last chance.
"These games are tougher than nails," Virginia Tech coach Seth Greenberg said.
Maybe he could say the same about his players.
Delaney ticked off the areas still sore as he sat on a stool in front of his locker.
"My neck, my side, my wrist," he said. "I'm kind of hurt, but I'll take that for a win."
***
To chat with other Clemson fans about this article please visit The West Zone message board.