Clemson downs St. Peter's 65-60
THE WEST ZONE message board | SHOP NOW: DEALS on CLEMSON apparel
CLEMSON -- Marcquise Reed left an impact on the court Tuesday night, but it's how he left the court that has Coach Brad Brownell worried after a 65-60 victory over Saint Peter's.
Reed led the Tigers with 21 points, but appeared to injure his knee after coming down hard on a blocked layup attempt.
"I'm very concerned", Brownell said of the injury. Reed will undergo an MRI today.
ALSO READ: Larry Williams' post-game analysis | Tigerillustrated.com's In-game Thread For Subscribers-Only
Elijah Thomas racked up 17 points and 12 rebounds in 26 minutes after sitting out the first 10 minutes for disciplinary reasons.
"When he was out there, he was a problem," Brownell said of the senior center.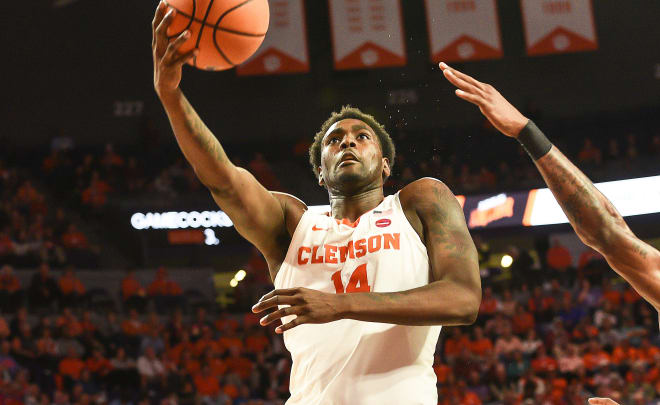 The two teams entered halftime tied at 28-28 and traded baskets for the entirety of the second half. Neither team led by more than five points at any point in the night.
Consecutive baskets by Thomas put Clemson ahead 44-39 with 11:31 remaining in the second half, but Saint Peter's pulled ahead to a 50-49 lead after the Tigers failed to connect on another field goal attempt until the 4:58 mark.
A strong performance at the free-throw line kept Clemson in the game as they converted on 23 of 30 attempts.
Thomas took over for the Tigers in the game's final five minutes, when he scored nine points and provided a ferocious block on the defensive end.
Clyde Trapp hit a circus shot while driving to the paint with 39 seconds left, giving Clemson a 61-58 lead.
"We drew up the play for Marcquise," Brownell said about the play. "We thought he could go, and then he gets out there and flips the ball to Clyde."
A step-back jumper by Saint Peter's guard Davauhnte Turner rattled out on the ensuing Peacock possession, and the Tigers were able to close out the game from the free-throw line.
Turner lead the Peacocks with a team-high 18 points and two assists.
The Tigers struggled to connect from deep throughout the game, shooting 2-of-14 from three-point range.
"I think we're a better shooting team than we've shown," Brownell said. "I thought we had some good shots tonight but we didn't make them."
Brownell also noted that the team was focused on attacking the paint rather than shooting from long range.
Saint Peter's fared much better from beyond the arc, connecting on 10-of-21 three-point attempts. "It's really hard to win when you get beat 10-2 on threes," Brownell said.
Shelton Mitchell finished the night with 15 points and two rebounds.
"We're just happy we came out with a win," Mitchell said.
Brownell said the team needs to play better on offense as conference play approaches.
"We got to have guys in better places to make shots," he said.
Clemson will head to Newark, N.J., on Saturday to face Mississippi State in the Never Forget Tribute Classic. The game is scheduled for 4 PM.
THE WEST ZONE message board | SHOP NOW: DEALS on CLEMSON apparel