Clemson handles Va. Tech in 8-1 win Sunday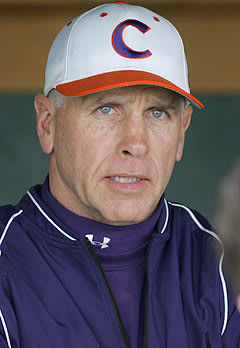 Sophomore lefthander Casey Harman pitched 6.0 scoreless innings to lead #18 Clemson to an 8-1 win over Virginia Tech in front of 509 fans at English Field on Sunday. The Tigers improved to 26-14 overall and 12-9 in the ACC. The Hokies, who won the series 2-1, fell to 24-13 overall and 9-11 in ACC play. Clemson's win snapped Virginia Tech's eight-game winning streak overall and six-game winning streak in the ACC.
Harman (4-3) scattered six hits, one in each of his 6.0 innings pitched, and allowed no walks with five strikeouts to earn the victory. Scott Weismann also saw his first action in two weeks and pitched 2.0 scoreless innings in relief with two strikeouts. Virginia Tech starter Mathew Price (3-2) suffered the loss, as he gave up six runs on seven hits in 3.2 innings pitched.
Meanwhile, the Tiger bats came alive to the tune of 12 hits. Mike Freeman went 3-for-4 with a homer, two runs, and three RBIs. Matt Sanders also added three hits.
In the third inning, Addison Johnson singled up the middle but overslid second base trying to stretch it into a double. Jeff Schaus followed with a hit-by-pitch but was caught stealing at second base. However, the Tigers mounted a two-out rally to take the game's first lead. Freeman and Ben Paulsen both drew walks, then Kyle Parker lined a three-run homer to left, his ninth long ball of the season.
The Tigers added to their lead with another three-run inning in the fourth. Matt Sanders hit a one-out single to left-center and John Nester followed with a walk. After Johnson flied out to the warning track in left field, Schaus ripped a two-out single to center to score Sanders. Freeman then blooped a single to left to score Nester and Paulsen hit a flyball to right that fell for a single to score Schaus. All six of Clemson's runs through four innings came with two outs.
In the sixth inning, Schaus was hit-by-pitch for the second time in the game and Freeman belted a two-run homer down the right-field line, his second long ball of the season.
The Hokies finally dented the scoreboard in the ninth inning. Pinch-hitter Luke Padgett led off with a single up the middle. Two batters later, Buddy Sosnoskie singled up the middle. Prior to Sosnoskie's single, the Hokies were 0-for-17 with runners on base in the game. Pinch-hitter Matt Shoemaker then ripped a single through the left side to score Padgett. It was Shoemaker's first career hit. Two batters later, pinch-hitter Marc Zecchino drew a two-out walk to load the bases, but Austin Wates grounded out to second for the game's final out.
The Hokies totaled 11 hits, including at least one in every inning, but they left 12 runners on base. They were also just 2-for-21 with runners on base and 1-for-10 with runners in scoring position in the game. Sosnoskie had a team-high three hits for Virginia Tech.
Clemson will host Coastal Carolina on Tuesday at 6:30 PM at Doug Kingsmore Stadium.
***
To chat with other Clemson fans about this article please visit The West Zone message board.