Clemson holds first spring scrimmage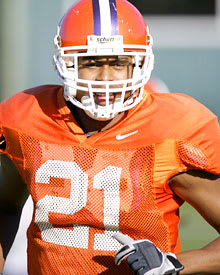 CLEMSON, S.C. -- Dwayne Allen and Xavier Dye each caught a touchdown pass, while Andre Branch and Kourtnei Brown combined for five sacks to highlight play in Clemson's first football scrimmage of the spring practice season. The Tigers have now completed seven practices and will have eight more over the next two weeks.
Spring practice concludes with the annual spring game at Death Valley April 10 at 4:00 PM. Saturday's scrimmage was played in perfect 65 degree weather at Death Valley. The practice lasted just over two hours and the scrimmage ran 86 plays.
Kyle Parker, Clemson's returning starter at quarterback last year, did not play in the scrimmage as he is with the Clemson baseball team at the University of Virginia where he is scheduled to play in a doubleheader against the number-one ranked Cavaliers on Saturday afternoon and evening. He is scheduled to play in next Saturday's scrimmage then the Clemson baseball team will play Saturday evening at Clemson against Boston College.
"The guys in orange (defense), showed some toughness and execution today," said Head Coach Dabo Swinney. "We did some good things on both sides of the ball and there was good energy on both sides. But the defense made some plays today. There were very few missed tackles.
"The offense had some positives also. There were no off sides penalties and there was good pace to our plays and the offense. The fumbles were a negative, but there were no interceptions. It was good to see Xavier Dye make some tough catches.
"Tajh Boyd is making progress, taking steps forward. He is learning the offense and will show more improvement as he gets more experience. He made some nice throws, including the touchdown to Dwayne Allen. Jamie Harper ran hard today also. If he runs like he has so far this spring he is going to have a tremendous year.
"I was also impressed with Mike Wade today. He has been playing on defense at safety when Kyle Parker has been at practice and at quarterback when Kyle is with the baseball team. It is almost like cheating for him because he is such a smart guy and he knows both the offense and the defense. So when he plays quarterback he knows exactly what the secondary is suppose to do."
Boyd ran the first team offense at quarterback and completed 7-14 for 52 yards and a touchdown. He did not throw an interception and completed each of his last four passes. His touchdown pass was a strike to tight end Allen from 23 yards out for the first score of the scrimmage.
Mike Wade ran the second team offense and completed 8-13 for 105 yards and a touchdown. He completed a 22-yard scoring pass to Dye to highlight his play. He also completed a 32-yard pass to Dye and a pair of 21-yard completions to red-shirt freshman Bryce McNeal.
Allen finished with three catches for 37 yards, while McNeal finished with 3-44. Dye had the most receiving yards with two catches for 54. Both were catches made in traffic. Running back Daniel Barnes had a 21-yard catch and red-shirt freshman Roderick McDowell had two catches for nine yards.
Jamie Harper was the top running back with seven carries for 44 yards. McDowell added 14-28 rushing and Andre Ellington had 9-17. Barnes finished with 7-22 on the ground.
The defense had an outstanding day and did not allow a touchdown drive of more than 25 yards. It was a balanced performance as Rennie Moore, Spencer Shuey, Quandon Christian and Brandon Maye all had four tackles apiece. With quarterbacks called down with a simple tag to the jersey, there were a lot of sacks. Branch had three for -19 yards, while Brown had 2-14. Moore had two tackles for loss, as did Christian.
Shawn Leonard-Horwith, Rashard Hall and Shuey all had fumble recoveries. Clemson quarterbacks did not throw an interception in 35 pass attempts. All-American DeAndre McDaniel had three tackles and a pass deflection from his safety position.


***
To chat with other Clemson fans about this article please visit The West Zone message board.