Clemson takes series vs. 5 Miami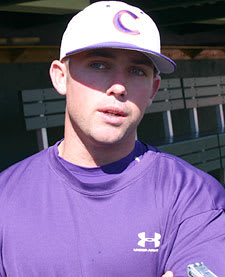 Senior third-baseman Matt Sanders went 3-for-4 with a homer and four RBIs to lead #20 Clemson to a 9-6 victory over #5 Miami (FL) in front of 4,696 fans at Doug Kingsmore Stadium on Sunday afternoon.
The Tigers, who won the series 2-1, improved to 23-12 overall and 11-7 in the ACC. The Hurricanes fell to 25-10 overall and 11-7 in ACC play. With Boston College's loss at Wake Forest on Sunday, the Tigers moved into first place in the ACC Atlantic Division standings ahead of the second-place Eagles (9-7) and third-place Florida State (9-7).
Sanders, the #9 batter in the lineup, got the Tigers going early when he hit a three-run homer in the second inning to give Clemson the lead for good. He later added two hits, including a run-scoring single in the fifth inning.
Tiger reliever Graham Stoneburner (4-3) earned the win, as he allowed one run on three hits in 1.1 innings pitched. Tomas Cruz pitched 2.0 scoreless innings in relief with two strikeouts to record his third save of the year. Miami starter Iden Nazario (4-1) suffered his first career loss, as he yielded six runs on six hits in 2.2 innings pitched.
The Hurricanes took a 2-0 lead in the first inning even though the first two batters of the frame were retired. Jason Hagerty hit a single through the right side and Chris Herrmann followed with a walk. Yasmani Grandal then lofted a flyball to deep left-center that fell just beyond the reach of leftfielder Jeff Schaus for a double to score Hagerty and Grandal.
The Tigers scored three runs in the second inning to take the lead. Brad Miller walked with one out and went to second on Wilson Boyd's single to center. Two batters later with two outs, Sanders desposited a 3-1 pitch over the fence in right-center for an opposite-field, three-run homer, his third long ball of the season.
In the third inning, Addison Johnson led off with a walk on four pitches, moved to second on a wild pitch, and scored on Jeff Schaus' triple over the first-base bag. Two batters later, Kyle Parker's groundout to short plated Schaus. Miller then hit a two-out single to right, stole second, and scored on Boyd's single to right-center.
The Hurricanes answered the Tigers' back-to-back three-run innings by scoring a run in the fourth inning. Herrmann led off with a pop up down the left-field line that fell for a double and went to third on Grandal's groundout. Harold Martinez then lofted a sacrifice fly to right to score Herrmann.
The Tigers responded with two runs of their own in the bottom of the fourth inning. Sanders led off with an infield single and advanced to second on Mike Freeman's sacrifice bunt. Johnson was hit-by-pitch and Schaus loaded the bases with a single through the left side. Sanders scored on a wild pitch, then two batters later, Parker blooped a two-out single to center to score Schaus.
In the top of the fifth inning, Nathan Melendres led off with a walk and went to third on Scott Lawson's single through the left side. Hagerty plated Melendres with a sacrifice fly to left-center, then Herrmann singled to left and Grandal walked to load the bases with one out. But Clemson avoided further damage when Martinez grounded into an inning-ending 5-4-3 double play.
Clemson came right back and scored a run in the bottom of the fifth inning. Boyd led off with a double to center and scored two batters later on Sanders' single up the middle.
In the seventh inning, Hagerty reached on a one-out walk and advanced to second when Freeman dropped a flyball in shallow centerfield. After Grandal walked to load the bases, Martinez ripped a single to left to score Hagerty and Herrmann. But the Tigers turned another double play to remain ahead by three runs.
After the first two Hurricane batters were retired in the ninth inning, Herrmann hit an infield single, Grandal walked, and Martinez singled through the right side to load the bases. But Ted Blackman popped up to end the game.
Sanders and Boyd led Clemson's 11-hit attack with three hits apiece, while Parker added two RBIs. Herrmann was 3-for-4 with a double and three runs, while Martinez totaled two hits and three RBIs for the Hurricanes, who accumulated 10 hits in the game.
In the series, Clemson outhit the Hurricanes .352 to .255. Sanders was 6-for-9 (.667) with a homer and seven RBIs, Schaus was 7-for-14 (.500) with four runs, Boyd was 6-for-13 (.462) with two doubles and five runs, and Parker was 4-for-10 (.400) with two homers and seven RBIs in the series.
Clemson will travel to Cullowhee, NC to take on Western Carolina on Tuesday at 6:00 PM.
***
To chat with other Clemson fans about this article please visit The West Zone message board.