Streak-shedder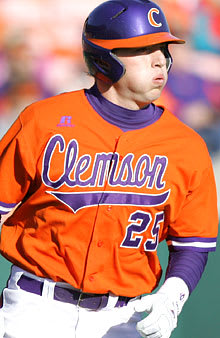 CLEMSON – Jack Leggett hasn't slept much lately, and he definitely didn't sleep much Tuesday night after his team squandered a one-run lead in the ninth inning and lost at South Carolina.
"Long, quiet bus ride home," he said. "Lot of white lines between here and Columbia."
And a lot of recent losses to the hated Gamecocks. Clemson had dropped six straight in the series and nine of 10, almost forgetting what it was like to beat Ray Tanner's bunch.
That's why Wednesday's 7-5 victory over the Gamecocks felt more like a relief than anything else.
"We definitely knew where we were," Leggett said. "And we definitely knew we wanted to break that cycle and move on to something different."
The Tigers (21-11) have developed a habit of squandering leads late in games, and no one at Doug Kingsmore Stadium was leaving early with Clemson up 7-4 entering the ninth.
The Tigers gave up a run, and with a man on South Carolina had the tying run at the plate. But Graham Stoneburner struck out Nick Ebert looking to give Clemson its first win over the Gamecocks since April 25, 2007.
A loss would've tied the Tigers' longest losing streak ever to the Gamecocks (21-11). South Carolina won seven straight from 1983-85.
These two teams meet for the fourth and final time on April 22 in Columbia. The Gamecocks also won 3-1 in Clemson on Feb. 28.
"You can definitely say there was a little mental block in there," said sophomore Kyle Parker, who had three hits and a walk in four at-bats as designated hitter after practicing with the football team earlier in the afternoon.
"When you lose to them (six) times in a row, it kind of gets to be a little habit. But we knew we could play with them. We knew we could beat them. And that's just the way it happened tonight."
After starter Ryan Hinson and reliever Matt Vaughn (W, 2-1) combined to give up four runs (three earned) in the first five innings, Craig Gullickson pitched two scoreless innings before giving way to Stoneburner.
Down 4-3 entering the bottom of the fifth, the Tigers got three runs to take a 6-4 lead.
Ben Paulsen scored on a sacrifice fly by Wilson Boyd after Parker and Brad Miller had back-to-back walks.
Chris Epps singled to right to score Parker, and Jason Stolz followed with a single that plated Miller.
The Tigers made it 7-4 in the seventh after Brandon Miller walked Boyd with the bases loaded.
"It's more relief than anything," Leggett said. "You're happy we won, but now I'm just glad it's over. Glad we moved on."
Clemson now moves on to play host to Miami this weekend in a three-game series that starts Friday night at 6:30.
The Hurricanes, ranked No. 11 according to Baseball America, are 24-8 and 10-5 in the ACC.
"We're not giving up, and we're coming out here and playing hard every day," Parker said. "It's just about time for things to turn around and us to start coming out on top in some of those games. All you can really do is stay close and see how it turns out."
***
To chat with other Clemson fans about this article please visit The West Zone message board.