Against all odds

CLEMSON - Dabo Swinney remembers climbing from his bedroom window and onto the roof as a child, trying to escape the venom and violence that accompanied his father's heavy drinking.
He can remember going without lunch money as a 12-year-old and sleeping on the floor of a friend's house as a senior in high school. He can remember sharing a bedroom with his mother for much of his time at college and spending countless weekends cleaning gutters to make money.
Swinney remembers a lot of difficult and deflating times in his 39-year lifetime, and those memories help explain why he's approaching his current challenge with a remarkable air of peace and perspective.
"I guess sometimes people look at me and they see me with a calmness in the midst of a storm, and that's where that comes from," he said. "It's because I've lived in that my whole life."
Since Oct. 13, William Christopher Swinney's professional life has taken twists and turns he never thought possible. On that day, Tommy Bowden resigned under pressure and athletic director Terry Don Phillips designated Swinney interim coach.
Since then, he's been fighting to turn around a once-promising season that turned sour from the start. He's been fighting to repair morale that seemed tattered after Clemson split its first six games.
And he's been fighting to wipe that interim tag from his title. But it's not the fight of his life; not even close.
More like the time of his life.
"This is fun," he said. "Man, this has been a blast. An absolute blast."
On the surface, Swinney's life seems blessed with an inordinate amount of right-place, right-time good fortune. He grew up in the suburbs of Birmingham, Ala., fulfilled a childhood dream by walking on at Alabama, and later earned a scholarship. He closed a storybook career by winning a national title with the Crimson Tide. Then he joined the team as a graduate assistant before becoming a full-time coach at age 26.
He married his high-school sweetheart, Kathleen, has three healthy boys ages 10, 8 and 5, and has a large home five minutes from campus.
And now the top job at Clemson has fallen into the lap of a guy who previously coached wide receivers.
But beneath the surface is a journey that's been far from charmed.
"When I see these guys, I see more than just football players," he said. "I see a lot of myself in a lot of these guys. Lost kids trying to find their way. Scared. Don't know what the future holds. Problems at home. Financial problems. Whatever it is."
Swinney endured all that and more starting at age 8, when he began to notice the effects of his father's drinking.
"I started seeing things that kids shouldn't see," said Swinney, the youngest of three boys. "There were times where he'd be gone and wouldn't come home and I didn't know why and mom would say this or that. There would be big fights and arguments, police called to the house, windows broken.
"I can remember praying to God to keep my family together and make things OK and protect my mom and my dad. My dad was a great dad. But when he would drink, it was not a good thing."
At present, the old wounds are healed and Swinney's family life is better than ever. He wants people to know he has a great relationship with his father, who has sworn off the beer and the cigarettes. He wants it pointed out that his mother is happily married and enjoying life, that his next-oldest brother is on the right path after decades of boozing and bad decisions.
Were Swinney given an opportunity to change anything, he would change nothing. Because all the strife, the heartache and heartbreak have shaped him into who he is today: a devoted Christian, a loving and committed father and husband, a successful coach.
When Swinney was 14, his father's appliance business began to flounder and the family lost the home it'd lived in for 10 years. The slow deterioration culminated in his parents' divorce when he was in the 11th grade.
He remembers sitting in the field house at Pelham High School, "crying like a baby" after he heard the news. To that point, he'd tried to keep everything from his friends. Tried to ignore the problems while painting his family as happy, sober, normal.
"I remember being embarrassed and angry, not knowing what I was going to do," he said. "I was playing three sports. I was in the Honor Society despite all that. But it had really taken a toll on me."
Swinney and his mother moved out and began renting a condo, but not for long. Her job at the mall couldn't pay all the bills, and the eviction notice was nailed to the front door after just three months.
So they moved in with one of Swinney's high school buddies. His mother slept upstairs with his friend's mother and sister. Swinney slept downstairs on the floor, using an egg crate he'd stash under the sofa every morning.
He says he wouldn't have been able to get through it without his relationship with Christ. He remembers the day he was saved (Feb. 3, 1986), remembers what he wrote in his Bible that day ("I dedicate my life to the Lord. My life will never be the same.")
He credits a youth football coach, Stewart Wiley, with ushering in that life-changing event. Wiley began a Fellowship of Christian Athletes chapter at Pelham High, and Swinney's revelation came at an FCA function there.
"I just started thinking about things differently, the way I went about my business," he said. "All of a sudden I had a conscience about things I didn't necessarily have before."
Swinney began dating Kathleen during his junior year. They'd met in first grade, began "going together" in middle school, broke up, but remained best friends through everything.
With the aid of Pell Grants and student loans, he went to Alabama planning to become a doctor. He thought his football days were over until one Saturday that fall, when he and Kathleen were sitting in the stands at Bryant-Denny Stadium.
His beloved Crimson Tide was three games into the season, and the receivers were dropping balls left and right.
"I said to Kath: 'I can do that. I know I'm good enough to play.'"
Swinney arranged a meeting with Alabama's staff and told them he wanted to be a walk-on. He was just 165 pounds, and the coaches were skeptical.
He spent the rest of the fall in the weight room with 47 other walk-on aspirants, arriving at 5:30 a.m. three days a week. Two of the 47 ended up making the cut for spring practice. Swinney was one of them.
Simply being a member of the team was an exhilarating accomplishment in and of itself. But he ended up working himself into the rotation in 1989 as a receiver.
"That was the thrill of my life right there," he said. "A lot of people were telling me not to do it, that I wasn't good enough."
To make extra money, Swinney began cleaning gutters. On weekends - and even on Saturdays after games - he'd pack up the blower and make the 45-minute trek from Tuscaloosa to Birmingham, going door-to-door in the upscale neighborhoods.
Coach Bill Curry was forced out after going 10-2 and winning the SEC title. Also gone was a receivers coach named Tommy Bowden, who became close with Swinney and, 13 years later, would hire him as receivers coach at Clemson.
In came Gene Stallings, and Swinney had to prove himself all over again. The new receivers coach, Woody McCorvey, ignored him and didn't bother playing him in the spring game.
In the summer of 1990, Swinney's mother moved to Tuscaloosa and into the apartment Swinney shared with a friend. From then until graduation, he and his mother occupied the same room - even the same bed.
His mother, Carol McIntosh, looks back and remembers those days as the happiest of her life. Every Monday night, she'd cook chicken and dumplings for Swinney and a group of his teammates.
Every morning at 5, she'd rise and make the trip to Birmingham and work all day before heading back to Tuscaloosa.
"We had our goals," she said. "He had his goals and dreams, and we knew someday it was going to be better. We laugh about it now. We were rooomates."
Swinney didn't think he'd make it under the new coaching regime, and he even entertained thoughts of transferring.
The Crimson Tide struggled in Stallings' first year, starting 0-3. At 3-4 after a 9-0 home loss to Penn State, Alabama needed someone to catch the ball on a slumbering offense. Working in his standard role with the scout team the following week, Swinney was stunned to hear McCorvey bellowing his name from the other side of the field.
McCorvey told Swinney he'd give him a chance at that practice, and if he did well he'd play the next game at Mississippi State.
Today, Swinney observes how eerily similar that day was to Oct. 13, when Phillips walked into his office and told him he was being promoted to Bowden's post with a chance to win the job for good.
"You're going about your business," Swinney said, "and the next thing you know your world is turned upside-down."
He ended up playing three years for the Crimson Tide, lettering and earning a scholarship. Alabama went 11-1 in 1991 and won the national title in 1992, upsetting Miami 34-13 in the Sugar Bowl. On display in the basement of his home in Clemson is a game ball he swiped from a referee as the final seconds ticked off the clock in New Orleans.
Swinney became the first person in his family to graduate college - "parents, grandparents, great grandparents, everyone" - and he says his education has helped him make a difference in the lives of others.
Through it all, he continued cleaning gutters in Birmingham whenever he had the chance. One of his customers, who helped found a physicians management group in Birmingham, offered him a job he couldn't turn down. Thirty-grand a year, company car, and a chance at something he'd rarely experienced: a normal, stable life.
But before Swinney's first day on the job, Stallings called with an opportunity to serve as a graduate assistant on his staff. In what Swinney calls "the most difficult 2½ years of my life," he worked with the Crimson Tide while pursuing his MBA.
The day after he received his masters in business administration, he was back on the rooftops of Birmingham cleaning gutters.
In February of 1996, Swinney was 26 and looking for a full-time job. He thought Alabama was out of the question. But Stallings, who'd reshuffled his staff, stunned Swinney by calling him to his office and offering him an opportunity to coach receivers.
"There were people lined up from here to California for that job," Swinney said. "Great coaches. Names all over the place. He told me he could hire anybody he wanted to hire, but he thought one of the problems in coaching was nobody wanted to give a young guy a chance."
Swinney remained on the staff when Mike DuBose took over for Stallings in 1997. He coached four more years but wasn't retained when DuBose was fired and replaced by Dennis Franchione.
Swinney remembers packing up his office after the 2000 season and getting phone calls from upset friends and family.
"They're asking me, 'Are you OK?' he said. "I said, 'Man, I'm blessed. I'm fine. I've had 13 years of an incredible experience.'"
Swinney figured he'd take a month or two off and then catch on with another team, but another opportunity materialized when Swinney received a phone call. On the other end was Rich Wingo, who served as Alabama's strength coach under Stallings. Wingo was president of a major development company in Birmingham and wanted Swinney to join him and start selling commercial real estate.
Swinney began at AIG Baker in April of 2001 and was instantly humbled.
"It was difficult," he said. "I go from coaching Alabama to not even knowing how to work the fax machine. I didn't know anything."
But he was a quick study and flourished in his new profession. He made good money, enough to begin building his family's dream home in Birmingham.
By that time, he and his wife had two boys. But not even parenthood came easy; they endured two miscarriages, one at 14 weeks and the other at 10 weeks, before Kathleen gave birth to their first child in 1998.
"We didn't know we were going to have children," he said. "It was a difficult time for us."
The extent of Swinney's coaching was little league and T-ball when he received a call from Bowden in the winter of 2003. Swinney flew to Clemson to interview for a job as receivers coach, and soon after his return Bowden called to offer him the job.
When Swinney answered the phone, he was standing in the yard of the new home his family was two weeks from moving into. His friends told him he'd be crazy to leave it all behind for a job under Bowden, who was entering his fifth season with the Tigers and sitting squarely on the hot seat.
Swinney took the job and ended up building a house identical to the one he left in Birmingham.
Along the way, the family wounds began to heal. Swinney said one of the most fulfilling moments of his life came in 2004, when he was able to move his father and stepmother into a home and out of the trailer they'd occupied for more than 17 years.
He broke the news by calling his stepmother on Mother's Day and telling her to pack her bags.
Swinney's father, 64-year-old Ervil Swinney, has battled health problems but has been free of alcohol and cigarettes for more than a year.
"After mine and his mother's marriage broke up, we had some hard times there for a while," his father said. "But he was just always an inspiration, always was. He's worked so hard to get to where he's gotten. He was definitely an influence on me getting sober, because I realized I wanted him to be as proud of me as I was of him.
"He was always there in support of me no matter what. I drank too much, things like that. And he was always begging me to quit. When your child does that, it always makes you look at which way you're going."
Swinney's mother, also 64, has been happily married for 10 years and is savoring a trauma-free existence. She spent most of her childhood in the hospital dealing with the devastating effects of polio and scoliosis. Then came the deterioration of her 25-year marriage to Ervil.
Swinney helped put his oldest brother, 45-year-old Tracy, through college at Samford in Birmingham. He's now a police officer in Pelham.
His other brother, 40-year-old Tripp, hit rock bottom in 2007. Dabo funded six months of alcohol rehab, which he successfully concluded last March. He says he's been sober since and is planning to marry his high school sweetheart in 2009.
"He stood right beside me all the way through," Tripp said. "We grew up in a family where drinking was the norm, and I was the one that picked it up. Someone had to break that chain of addiction in our family."
Swinney beams as he reflects on his family's transformation.
"My mom and dad used to not hardly get in the same county together, and now they're very close," he said. "When we have a family function, they're all there."
Swinney says he's immensely appreciative of the opportunity he's been given to serve as Clemson's head coach. He says he's "had a chance to smell the roses - and they smell pretty good, too."
There'll be no bitterness or anger if someone else ends up getting the job he wants. He'll simply count his blessings and move on to the next challenge.
"It's just amazing how things work in your life," he said. "I know how to be successful. And that is: You put your eyes on the Lord in everything you do, you believe in yourself, and you never quit. If you do those three things, you're going to be successful.
"And you'll know happiness. That's the main thing."
Said his father: "Dabo is a special person. He really is. That might sound like a daddy blowing his whistle. But he is special."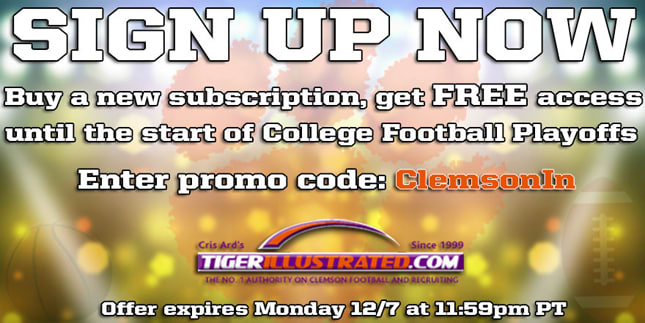 Click
Here
to view this Link.