Chance to impress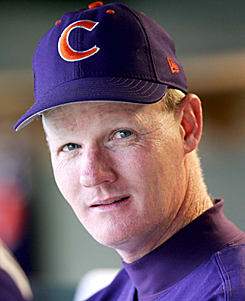 CLEMSON - Clemson is back in familiar territory after a year off from the NCAA Tournament following a 31-27-1 mark in 2008. The Tigers, 15th in this week's Collegiate Baseball Poll, were picked Sunday to host a regional, as expected.
Head coach Jack Leggett said Monday he felt the Tigers were in good shape to host even with a loss to North Carolina in the ACC Tournament. The Tigers defeated the sixth-ranked Tar Heels 4-3 in 11 innings. The win gave Clemson a 40-19 mark on the season.
Asked if he felt he had to win Saturday, Leggett answered, "I don't think so, personally. But it was one of those things where we wanted to win to make sure we didn't have anything going in another direction. We needed to make a statement.
"I felt we had earned it. We needed something positive happening for us and that (win) was good for us."
Clemson closed its season with a 19-7 win-loss mark over its last 26 games, finished 19-11 in the ACC regular season, and entering the weekend was ranked 7th nationally in RPI.
The Tigers are one of four ACC teams hosting a regional, joining Florida State, North Carolina and Georgia Tech. It marks the 12th time since 1975 the Tigers have played host to a regional and the 10th time since Leggett has been the Tigers' head coach.
Clemson is 35-7 all-time in NCAA Tournament home games, which includes a stellar 32-5 mark under Leggett.
"We're excited about coming back home. I think our players are excited about it. We've been on the road for a long time. It'll be a tough tournament. These are all good teams. It'll be a challenge for us," said the head coach. "We won't be intimidated by anybody and they won't either.
"These teams have played good competition all year long. They're good teams within their conferences. Tech is coming off winning their conference championship. They're coming in with some confidence. I expect everyone will come here ready to play."
The Orange & White will face off versus regional #4 seed Tennessee Tech (30-22-1) on Friday. Leggett is a perfect 4-0 in his career versus Tech. Alabama (37-19) from the SEC is the regional's second seed, and will face No. 3 seed Oklahoma State (32-22) in the opening round. Leggett owns a 2-0 mark all-time versus the Crimson Tide but is 1-3 versus the Cowboys.
Leggett said he was surprised to see Tech, Bama and State selected, as he had not envisioned either team in the Tigers' regional Sunday evening.
"It goes back to my theory that you can't predict those things. Projections; they mean nothing," he said. "It's just people having fun talking and trying to figure something out that they're not involved in. Although I thought Alabama might be a possibility, being in the SEC."
Leggett believes the Tigers do bring some momentum to the tournament. The 55-year old also dispels the notion that his team didn't play a meaningless game on Saturday following losses to Virginia and Duke in the ACC Tournament.
"(Beating UNC) just shows you every time we put on the uniform, there's not a meaningless game. When we put on that uniform, we're going to play hard and tough," he said. "We were playing for a chance at 40 wins, pride, a chance to host and we were playing against a great team in UNC. We put together nine innings against them that was special."
Clemson will have to be on the mark this weekend if it is to advance. Oklahoma State holds a No. 26 RPI ranking. Alabama ranks 29 in RPI.
Junior first baseman Ben Paulsen leads the Tigers in hitting with a .368 average. The Acworth (GA) native also leads Clemson in hits (86), runs batted in (55), slugging percentage (.611) and fielding percentage (.987).
Sophomore outfielder Jeff Schaus, who hitting coach Tom Riginos tabbed earlier this month as the catalyst for the Tigers' turnaround at the plate, enters the regional hitting .329 with 73 hits, 11 homers and 43 RBI.
Junior outfielder Wilson Boyd is second on the team in hitting (.348) and first in on-base percentage (.436).
The Tigers are hitting .301 as a team, which ranks seventh in the ACC. Clemson entered last weekend with a No. 4 ranking nationally in team earned run average.
Sophomore left-handed pitcher Casey Harman leads the Tigers in wins (7) and owns a 3.86 ERA in 20 appearances, 11 of which were starts.
Reliever Ryan Hinson, the only remaining player on the roster from the Tigers' 2006 run through Omaha, is 2-0 with a 3.25 ERA.
"I think we've improved a great deal over the last few months. We've got a lot of young players and they're starting to grow up," Leggett said. "They're starting to make some better decisions on the field. They're feeling more comfortable. Experience means a lot to them. I can see them growing and maturing.
"We've got more guys in the lineup hitting now. Our defense is doing pretty good for the most part. I think we're starting to play pretty good baseball the last five or six weeks. That's what has gotten me excited about it, that and being able to come back here in front of our people on our campus. That's exciting as opposed to getting another suitcase ready to go. We've been gone for so long. It's great to be back home."
Asked if perhaps the Clemson fan base could be more energized this time around, given that the Tigers missed the postseason a year ago, Leggett responded, "I would hope so. Our fans traveled well up there (to Durham) but we didn't give them much to cheer about in the first couple of days. Except for those two or three innings, we played really well. But the last day they hung with us.
"I'm hoping our fans will come out and support us. This is Clemson. This is Clemson baseball. This is a great tradition. We've been good for a long period of time. I would hope they would jump up and rise to the occasion.
"This didn't come our way last year, so we're excited about getting back to the tournament, and getting back to where we expect to be."
2009 NCAA REGIONAL BASEBALL TICKET SCHEDULE
ALL-SESSION RESERVED TICKETS:
Monday, May 25—IPTAY members can purchase
Tuesday, May 26—General Public can purchase
Reserved Ticket Book $70
SINGLE GAME TICKETS:
Friday, May 29 (8 a.m.)—Tickets on sale for Games 1 & 2 online at clemsontigers.com, The Clemson Athletic Ticket Office or by calling 1-800-CLEMSON
Friday, May 29 (conclusion of the Friday evening game)—Tickets on sale online for Games 3 & 4
Saturday, May 30—Games 3 & 4-Tickets on sale at Doug Kingsmore Stadium 1.5 hours prior to Game 3
Saturday, May 30 (conclusion of Game 4)—Tickets on sale online for Game 5
Sunday, May 31—Game 5 Tickets on sale at Doug Kingsmore Stadium 1.5 hours prior to game time
Sunday, May 31 (conclusion of Game 5)—Tickets on sale for Game 6 at Gate ONLY
Game 7 if Needed:
Sunday, May 31 (conclusion of Game 6)—Tickets on sale online
Monday, June 1—Game 7 Tickets on sale online, at The Clemson Athletic Ticket Office or by calling 1-800-CLEMSON
Reserved Seats (per game) $12
General Admission (per game) $8
***
To chat with other Clemson fans about this article please visit The West Zone message board.