Defense records 13 sacks in scrimmage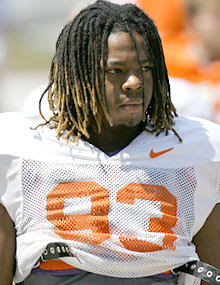 CLEMSON - All three Clemson quarterbacks had solid performances and defensive end Da'Quan Bowers recorded three sacks and four tackles for loss to highlight play in Clemson's scrimmage Saturday morning at Death Valley.
It was the second major scrimmage of the spring for Dabo Swinney's Tigers. The spring practice sessions conclude next Saturday with the annual Spring Game at Clemson Memorial Stadium at 1:00 PM.
"I thought it was a great scrimmage," said Clemson Swinney. "I saw great competition and solid performances on both sides of the ball. The wide receivers had their best day of the spring. Brandon Ford had two touchdowns (including goal line drill) and has really made progress this week. The quarterbacks did well. People better not count out Michael Wade, he had an outstanding day.
"On defense I thought Da'Quan Bowers was outstanding. The defense had a very good day in general.
"We did have some mistakes that were critical, a fumble on the goal line, an offside's penalty by the defense that negated a big play that allowed a first down. But, overall I was pleased.
"The kickers also did very well today. Spencer Benton was 7-7 on field goals, including a 50-yarder and Richard Jackson had an outstanding day as well."
Jackson made two field goals from 49 yards during the scrimmage.
Wade had the best stats of the quarterbacks as the native of Greenville, SC completed 9-12 for 163 yards and two touchdowns. Willy Korn was 8-16 for 96 yards and added a three-yard scoring pass to Ford in the goal line drill portion of the scrimmage. Kyle Parker completed 7-14 for 87 yards and a touchdown on a 10-yard pass to Terrence Ashe, who made a nice catch in the back of the endzone.
Parker hit a home run for the Clemson baseball team against Duke on Friday night, then was back in Death Valley Saturday morning. He will be back in the starting lineup against Duke on Saturday night.
"We came out today to work on our passing game," said Swinney. "We have had some tough weather this spring so today was the best day we have had to work on pitching and catching. I was pleased with what I saw."
Ford had three catches for 97 yards, including a 60-yard score from Wade, in the regular scrimmage, then added a touchdown catch from Korn in the goal line portion. Jaron Brown had three catches for 68 yards, including a 26-yard reception from Wade. Ashe had three catches for 20 yards, including the 10-yard score from Parker. Xavier Dye added 2-40 receiving, and Brandon Clear had a 30-yard catch as well.
Rendrick Taylor was the top rusher with 8-31, while Andre Ellington had 8-27. There were no rushing touchdowns in the scrimmage until the goal line drill. Ellington and Jamie Harper both had two touchdowns in the goal line drill.
C.J. Spiller and Jacoby Ford both missed the scrimmage as they compete this weekend for the Clemson track team in the Florida Relays.
The defense recorded 13 sacks in the scrimmage that was played with a one-hand touch rule on quarterbacks, so many of the sacks would not have counted in a normal game.
Bowers, who was Clemson's top player in the Gator Bowl against Nebraska, had three sacks, a caused fumble, four total tackles for loss and six overall tackles. Byron Clear had two sacks.
Kavell Conner, Clemson's top tackler last year, had six tackles, as did Jeremy Campbell and Bowers, to lead the defense.
DeAndre McDaniel, Daniel Andrews, Jamie Cumbie and Kourtnei Brown had five apiece. Sophomore Coty Sensabaugh had a 53-yard fumble return for a touchdown. Safety Sadat Chambers had the only interception of the scrimmage.
***
To chat with other Clemson fans about this article please visit The West Zone message board.