Down to the wire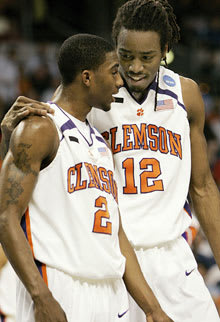 CLEMSON – K.C. Rivers had an interesting way of summing up tonight's game at Virginia Tech:
"It's a team that we're going to have to put 15 rounds of dogfight on," he said.
We'll stay away from the dogfight comparison for now. But given the recent history and tenor of this series, Rivers might've been dead-on in his assessment that this game will be bitterly contested until the very end.
Good luck finding a series that's been closer since ACC expansion. These two have faced each other six times, and the games have been decided by a total of 12 points.
All six have been decided by five points or less, and five of the six have come down to the last possession. Clemson has won four of the six, including the past two by one point apiece.
So the No. 12 Tigers (17-2, 3-2 ACC), who've lost two of their last three after a 16-0 start, probably won't be intimidated by the environment that'll greet them tonight at Cassell Coliseum.
The Hokies (14-5, 4-1) have won five straight and nine of their past 10, including last week's upset of then-No. 1 Wake Forest in Winston-Salem, N.C.
"We've been in some tough situations like these before," said Rivers, a senior wing. "So I think this team is prepared to go into another hostile environment and prepared for the type of things that can occur when you're on the road."
It's easy to forget the details of the last six meetings between the Tigers and Hokies.
With that, here's a review of the last-second mayhem that's unfolded since the 2004-05 season:
Jan. 15, 2005
At Virginia Tech
With the game tied at 55 and less than 20 seconds remaining, Clemson had possession with a chance to win.
Overtime seemed the worst-case scenario until Carlos Dixon stole the ball from Vernon Hamilton with 12 seconds left and scored the winning basket on a breakaway dunk with 6.9 seconds on the clock.
Clemson missed a 3-pointer as time expired, and the Tigers ended up losing their next four games.
Final score: Hokies 59, Tigers 57
March 1, 2005
At Clemson
After two free throws by Dixon gave Virginia Tech a three-point lead with 16 seconds left, Olu Babalola found himself open on the wing. The crowd gasped as he unleashed the shot, because Babalola wasn't exactly known for his shooting prowess.
The ball sailed through the net with 9.4 seconds left, and the Hokies rushed to the other end of the court looking for the game-winning shot. Shawan Robinson pilfered a bounce pass by Jamon Gordon, began to dribble with four seconds on the clock.
Robinson found Sharrod Ford wide open. Ford dunked just before time expired, and a replay review by officials confirmed he got it off on time.
"I didn't think he would get there," coach Oliver Purnell said of Ford after the game.
Clemson won on Senior Night and became eligible for the National Invitation Tournament.
Final score: Tigers 66, Hokies 64
Feb. 8, 2006
At Clemson
In its previous home game, Clemson suffered a double-overtime loss to N.C. State after the Wolfpack hit a game-tying 3-pointer with 2.4 seconds left in regulation.
On this night against the Hokies, the game unfolded in hauntingly similar fashion. With 4.7 seconds left in regulation, Zabian Dowdell drilled a 3-pointer from the top of the key to force overtime.
The Tigers couldn't capitalize on six consecutive missed free throws by the Hokies in overtime. Clemson missed three straight shots from close range at the end: Cliff Hammonds on a runner, Akin Akingbala on a follow, and Robinson on another follow at the buzzer.
Hammonds had a chance to create a four-point lead with 12.1 seconds remaining in regulation, but he missed one of two free throws to keep the Hokies in it.
Clemson lost for the sixth time in seven games.
"It's tough, because we had opportunities," said Hammonds, then a sophomore. "The game was on the line. We just didn't get it done."
Final score: Hokies 75, Tigers 74
March 1, 2006
At Virginia Tech
Clemson entered shooting just 30.9 percent on 3-pointers, ranking last in the ACC. So Hokies coach Seth Greenberg figured there was no way the Tigers would put on a long-range clinic.
He figured wrong. Clemson went 11-of-14 on 3-pointers in the second half and surmounted a seven-point deficit in the final four minutes.
"I'm not sure if you lock the guys in the gym by themselves they go 11-for-14," Greenberg said afterward.
Greenberg drew a crucial technical foul call late after Hamilton forced Dowdell into a turnover with less than 15 seconds left and the Tigers up two.
Greenberg argued vehemently that the ball touched Hamilton before going out of bounds. Robinson ended up hitting three of four three throws to seal it.
Clemson improved to 6-9 in the ACC, its most conference wins since 1997-98.
Final score: Tigers 86, Hokies 81
March 4, 2007
At Virginia Tech
Clemson had lost 43 consecutive road games against ranked opponents entering this tilt against the No. 21 Hokies, and there was little indication the streak would end here.
First of all, Virginia Tech had an opportunity to claim the ACC regular-season title with a victory. Second, it was Senior Day at Cassell Coliseum.
But the Tigers went up big early and fought off repeated challenges from the Hokies with big shots – none bigger than a banked-in runner by Rivers that put Clemson up one with 19.4 seconds left.
Hammonds missed two free throws with 1.7 seconds left, but Trevor Booker swatted away a long inbounds pass by Deron Washington to end it.
The Tigers, who'd followed a 17-0 start by losing nine of 11 games, finished the regular season 21-9 and 7-9 in the ACC.
"It says a lot about our character," Hammonds said. "We're not the type of team that's going to give up and throw the season away and say, 'Have at us.'"
Final score: Tigers 75, Hokies 74
March 9, 2008
At Clemson
On Senior Day in Clemson, the Tigers looked fit to squander a third-place ACC finish. They were down six after giving up a 10-point second-half lead, but they turned up the heat on the defensive end to wrest control.
James Mays forced a late turnover that produced a dunk; Sam Perry forced A.D. Vassallo to step on the sideline with 1:14 left; and Hammonds came up with a steal of Vassallo that led to a Mays dunk with 1:48 remaining.
"It was only fitting they were out there on the floor at the end, making defensive stop after defensive stop," Purnell said of Hammonds, Mays and Perry, the team's seniors.
Washington forced Demontez Stitt into a turnover with 29 seconds left and the Tigers up one. With nine seconds on the clock, Vassallo missed a runner but Washington successfully followed to put Virginia Tech up 69-68.
Stitt attacked the basket on the other end, and Vassallo was whistled for a reach-in foul. Stitt made the two free throws with 3.8 seconds left.
Vassallo said he never touched Stitt, and Greenberg was still seething 15 minutes later.
"It wasn't a hard, hard foul," Stitt said. "But it was hard enough for the ref to call it."
Clemson tied a school record with 10 ACC victories and earned a bye in the ACC Tournament.
Final score: Tigers 70, Hokies 69
***
To chat with other Clemson fans about this article please visit The West Zone message board.