Gaines Adams 1983-2010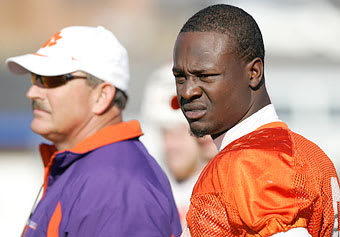 Updated at 3:10 p.m.
CLEMSON, S.C. -- Gaines Adams, one of just three players in Clemson football history to be a named a unanimous first-team All-American, died Sunday morning, January 17, in his home town of Greenwood, SC. He was 26 years old.
Greenwood County Coroner James Coursey said Adams was dead upon arrival at Self Regional Memorial Hospital. He was pronounced dead at 8:21 AM. The cause of death was ruled a heart attack due to an enlarged heart.
"This is a sad day for Clemson Nation," said Clemson Head Coach Dabo Swinney, who was wide receivers coach of the Tigers during Adams' playing career. "Gaines was not only a great player at Clemson, he was an outstanding young man.
"He was a great example of how you could progress through hard work. He played eight-man football in high school, then became a top five pick. How many people have done that. I was an offensive assistant coach during his career, and we all took notice of his considerable skills. Our thoughts and prayers go out to his family."
"I was shocked and saddened to hear this news," said former Clemson Head Coach Tommy Bowden, who was the Tigers head coach for Adams' entire Clemson career. "When I heard the news I thought it was his father because he has the same name. I just couldn't believe it was Gaines.
"I will always remember the smile he had on his face and I will always remember his patience. To go from eight-man football, to prep school, then to red-shirt, he waited his time, but proved it was worth the wait. Then he showed his patience when he came back for his senior year and could have gone pro after the 2005 season. This is a great loss and our prayers go out to his family."
Adams lettered for the Tigers from 2003-06 and finished his career with 28 sacks, tied for first in school history with Michael Dean Perry. He was named first-team All-American by every service in 2006 when he was also named ACC Defensive Player of the Year. He was second in the overall ACC Player of the Year voting that year to Calvin Johnson of Georgia Tech.
He was also one of five finalist for the Bronko Nagurski Award and one of six finalist for the Ted Hendricks Award in 2006 when he had 63 total tackles and 12.5 sacks.
Adams will always be remembered for his 66-yard fumble return of a botched field goal attempt against Wake Forest in 2006, a play that changed the course of the game, and helped Clemson defeat the eventual ACC Champion Demon Deacons, 27-17. That play was named one of the top four game-changing plays of 2006 by ESPN.
Over his career, Adams had 168 tackles, including 44.5 tackles for loss and 28 sacks. He played in 48 games, 26 as a starter, and had 21 passes broken up, most ever by a Clemson defensive lineman, three fumble recoveries and five caused fumbles.
Adams received his undergraduate degree from Clemson in December of 2006. He came to Clemson after one year at Fork Union Military Academy in Virginia. He played his high school football at Cambridge Academy in Greenwood, a program that had eight-man football.
In April of 2007, Adams was the number-four selection of the NFL draft by the Tampa Bay Bucs, tied for the highest draft choice (Banks McFadden 1940) for a Clemson football player.
Adams had just finished his third season in the NFL. He played half of this past season with Tampa Bay, then was traded to Chicago. He had 13.5 sacks in his 47-game NFL career.
Funeral arrangements will be announced at a later date.


***
To chat with other Clemson fans about this article please visit The West Zone message board.