Mail Call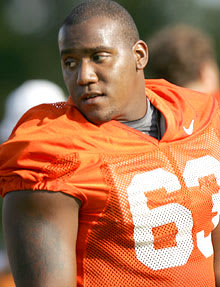 Brian K. - Irmo, SC: - Ard, long-time subscriber. Enjoy the Web site. Got a couple of questions, but some comments as well. First, be thankful you do not live in Columbia anymore. Talk radio here has reached an all-time low. I am sick and tired of hearing all the junk talked by these stupid coots. They have done NOTHING in the history of their program and are one win away from an all-time losing record in football. Their mascot is a damn chicken.
That brings me to my questions. No. 1, why are they seemingly signing better talent? What's with all the highly ranked classes from them? And do you see us getting any of the top ten prospects in the state turned down the stretch? Thanks in advance.
Cris Ard: - Thanks for the compliments Brian. Much appreciated.
On to your questions. South Carolina is in the middle of the state. It's in a very good location geographically speaking. It's in the SEC. And that's the best football conference in the country. It's a program with a bigger alumni base, a lot of resources, an 80,000-seat stadium, and a hall of fame head football coach, which is always a door-opener. My point is that with those elements, you're always going to sign good football players. And some kids grow up in this state simply wanting to go to either school. It wouldn't matter if Bozo the Clown coached at Clemson or South Carolina for some kids. Some players just dream of going to one school over the other.
The advice I'd give you is not to give much weight to a recruiting class ranking of a program that you beat year after year after year. Until they start beating you on the field with any degree of regularity - something they haven't been able to do since the rivalry began in 1896 - then I wouldn't worry too much about what's going on when National Signing Day rolls around. When they put together a two-game win streak on you, something that hasn't been done since 1969-70, then I'd get concerned. The fact of the matter is that they're a good football team and they're going to win some games in this rivalry. They beat Danny three times. It happens. It's unacceptable to Clemson fans, as it should be, but it does happen.
Justin Parker is - at this time - the lone national in-state prospect Clemson has a chance to land down the stretch, barring something unforeseen. Most of the state's top 2010 prospects were not strongly considering Clemson as early as mid-season of 2008. The reality is that long before Dabo Swinney took the head job - permanently - on December 1, the Tigers were out of it with most of the state's top 10 prospects.
And Clemson won't sign the state's top recruit next year, Rock Hill - South Pointe's Jadeveon Clowney, as is the case with any top-rated Rock Hill player, but will do better with the state's top 15 prospects.
Mitchell C. - Gaffney, S.C. - Ard, keep the info coming. Great job. Got a few questions. Do you think we beat Georgia Tech? Yes or no. And something I always was curious about. I graduated in 1993 and I know you've always been a big Danny Ford fan. But since he was at Arkansas, was curious who you wanted for the Clemson job after we fired Ken Hatfield? Have you seen Hatfield since he left here?
Cris Ard - I haven't decided yet on this weekend. I'm not sure what we'll pick. We'll try to have the preview article up sometime Friday afternoon.
And on your last questions, though I knew it wasn't possible because I knew he didn't want to coach again, I thought Dick Sheridan would have been a really good fit. I thought he would have won here and put the program back to where it was before it experienced the slippage it did under Hatfield. And I haven't talked to Hatfield since he left, but did hear him speak at a convention nine years ago.
Graham K. - Atlanta, GA. - I was curious about your thoughts of the 2010 recruiting class. Seems like we have a ton of three-star prospects and five four-star prospects. It seems like Bowden was better at getting four-star guys. Is Dabo aiming lower, or are these his type of players… tough, gritty work ethic and such?
Cris Ard - I personally think it's fair to look at a coach's second or third full recruiting class before rendering a thorough evaluation of the job he's going to do in recruiting. Butch Davis would be the first to tell you his first class is nowhere near what he's shooting for now. Nick Saban would tell you the same. Tommy Bowden would surely admit as much if you asked him about his 1999 and 2000 recruiting boards compared to what he signed in 2001 and 2002.
Dan Brooks wasn't hired until March. Kevin Steele wasn't on board until January. Charlie Harbison and Danny Pearman weren't here until December of last year. So this staff is in its first year together .
Clemson is sitting on 18 verbal commits and will bottom out at 22-23 players in its 2010 class. If they're able to close strong, they can be in a position to sign a top 20 recruiting class. I think they'll take that. I also think if you talked to every Clemson assistant, he'd tell you it's his expectation for them to have a much higher rated class in 2011, given their position early with numerous national targets on their recruiting board.
I do think Clemson's class is rated accordingly for the most part. But... I'd personally rate David Beasley a 5.7, Victor Beasley a 5.8, Corey Crawford a 5.8 and Sam Cooper a 5.5. I'd give Reid Webster a 5.5, Jake Nicolopulos a 5.5, Buice a 5.6 and Desmond Brown a 5.7.
Andy M. - Greenville, SC - Do you believe the Chicken Curse is directly responsible for the Gamecocks' collapse this season (until Saturday)? Moreover, do you believe the Gamecocks have been this sorry for this long because of the Chicken Curse?
Cris Ard - I don't believe their losing four of the last five games this year has anything to do with a curse. I think three of those four losses have simply been to teams with better players - Alabama, Tennessee and Florida. Not always, but usually the team with the best players wins. Arkansas - on the road - is a tough place to play, and they made some mistakes that were awfully costly in that game, and it's difficult to walk away with a win in that situation when you're on the road in the SEC. But 1-85, South Carolina's roster has better talent than Arkansas in my opinion.
I don't buy into curses, so why South Carolina has a 535-534-44 record after 117 years of football is something that's tough to understand. Because they've had resources there to be successful for a while and their fans are passionate. There aren't a lot of fan bases that would sell out for a program during an 0-11 season.
Jeffrey P. - Greer, SC - If we win the ACC title game, what staff changes do you see Dabo making? If we lose?
Cris Ard - I don't think he'll make any changes either way. If there are staff changes, I think it'll be because a coach leaves for an opportunity elsewhere. I think he likes his staff a lot, and has gone out of his way numerous times to publicly give them a high approval.
Brett R. - Spanish Fork, UT - Love the reports and insight that TI offers. My question revolves around the recruiting philosophy of our coaching staff versus Bowden and his staff. Particularly, how does Swinney and his coaches differ from Bowden in regards to recruiting philosophy? We all expected the 2010 class to suffer a small decline simply because of the coaching turnover. Our 2011 class is already looking very promising.
Also, do we see a staff that during the season spends less time on recruiting than the previous staff? Right now, for better or for worse, that seems to be the impression I get as an outsider looking in.
Cris Ard - Thanks for the compliments Brett. You're very perceptive and correct. It is indeed a fair characterization to suggest that this staff doesn't spend quite as much time in-season recruiting as the previous staff. I think it's one reason why Dabo has pushed for an expanded support staff, something that Nick Saban has at Alabama. If you've got an expanded staff, obviously that helps with a lot of legwork and in-house processing you can do with regard to recruiting from hand-written correspondence/mail-outs/email and Internet correspondence with prospects.
It's also a staff that's more deliberate in its offer-process. It's not an offer-happy staff. The process in which offers are tendered is longer with the current staff. A position coach doesn't have the leeway he once did. If an offensive offer goes out, it will indeed be a kid that the coordinator has laid his eyes on. I personally have always been in favor of a thorough in-house evaluation, because it's a proven fact that the more sets of eyes you can get on a kid, the less chance you have in missing in evaluation.
A lot of staffs have become more deliberate in the offer-process, and that's saying a lot, given that kids are getting offered earlier and earlier over the last 10 years. Therefore it forces your hand in-house to be as thorough as possible, knowing that you're going to offer a lot of juniors in February and March whereas 10 years ago you waited until you got them in for camp to make that move. 10 years ago, for example, if you offered a rising senior in your summer camp, that was pretty early. Wait that long to offer a kid these days, and he gets offended that you slow-played him.
Jon P. - Pisgah Forest, NC - Two questions. Which committed recruits "appear" to you as able to come in next year and immediately contribute and not red-shirt? And can you give us a report on how Quandon Christian's red-shirt year is going?
Cris Ard - We'll run our red-shirt reports before spring workouts. Quandon is a kid they hit on. He'll get some work at their SAM position, but I think he's got the makeup to play all three positions. He's got some range, he's athletic, and I like his growth potential. He's got some work to do on his upper body, obviously. I think he'll be a two-deep player for them in 2010. He would have played this year had they not been sure they were going to float Kevin Alexander back and forth between SAM and defensive end.
On which recruits appear to be able to come in and play, that's such an undeterminable. Not even the coaches could really give you a definitive answer on that, because you never know until you get them in. If there's a pressing need at a given position, if a kid plays that spot and he's passing his conditioning drills, and he can pick up his assignments, then he'll usually have a shot to play. On the offensive line, I think David Beasley is a kid, physically, who could go in and help them at guard or even at tackle. I don't know that it'll come to that, but of their committed o-line commits, he'd be the one that would be closest to playing.
Martavis Bryant and DeAndre Hopkins have a lot of work to do physically, but both are so skilled, and receiver is absolutely a concern for them on offense, so I highly doubt both will sit. Surely one of them would play, despite the fact that they'd greatly benefit from a red-shirt. There's also no depth at tight end, so Victor Beasley will have a chance to come in and get some early playing time as well.
Jesse H. - Simpsonville, SC - I know y'all have been swamped and all the long hours and great work is appreciated. I asked a question last week and you said to remind you the next morning. With the news of Kenneth Page's dismissal, a lot of the get rid of Brad Scott talk flared back up, and not that it was ever really dead. My question is, with Brad as the head OL guy, what is our hit/miss percentage with our OL recruits? In other words, for all the OL recruited since Brad has been here, how many have been hits and how many have been misses? And as a follow-up, how does this compare to other top 25 programs?
Cris Ard - Thanks for the compliments. I can tell you Dabo has no plans to make a move with either Brad or Danny after the season. If Brad or Danny were not coaching offensive line in 2010, it would be because they'd leave or go somewhere on their own accord.
Brad was promoted to offensive line coach before spring workouts of 2004, so everyone signed, minus Quentez Ruffin who he did not approve, in the 2005 class and beyond have been under his watch.
Thomas Austin was a three-star prospect in 2005, according to Rivals.com. He's been a three-year starter and an all-conference selection. I'd say they hit on him. Barry Humphries, also a three-star prospect in that class, pulled over 700 snaps in 2007, and was the starter entering the 2008 season before he suffered a torn ACL in game one. He would have battled Mason Cloy to keep his job that season, but would have put in over 350-400+ snaps, minus that injury. Barry was not 100-percent by any stretch going into August of this year. When he transferred to SC State, I was told by one of their coaches that he had difficulty getting through a practice. So had he played at Clemson this year, due to the injury, he wouldn't have been the same, and would have been - at best - a role player.
Jamarcus Grant camped at Clemson in the summer of 2004. They liked him, particularly his mobility, and wrapped up his commitment later that summer. He obviously was never able to beat out Roman Fry, Thomas Austin, Chris McDuffie or any of the other primary guards who have worked in the starting rotation over the last three years.
Brad was not the offensive line coach at the time Cory Lambert was approved in 2003. Cory signed in 2004, did not qualify, and signed again the following February.
They took just two offensive tackles in 2006, both Shrine Bowl offers - Jamal Medlin and Chris Hairston. Hairston was headed to S.C. State before they offered. They picked him up without anyone really noticing. Now he's one of the best offensive tackles in the conference. Medlin red-shirted in 2006, and was not able to beat out Chris Capote, a fifth-year senior, at right tackle in 2007, or Landon Walker, a more talented player, in 2008. He spent much of the summer on crutches with an injury, and was not able to resume football this fall.
Mason Cloy was a three-star prospect in 2007, and as a freshman gave them 12 starts and 660 snaps. He'll pull over 500-550 easily in his sophomore season, and they're expecting him to start at left guard in 2010. David Smith was also a three-star prospect in the 2007 class, and is their most athletic, "active" tackle. The most athletic tackle on the roster is Brandon Thomas, but he red-shirted this fall, as you know. Smith red-shirted in '07, then was their front man at the left guard spot last year before suffering an ankle injury in the SC State game. He never fully rested it until December, and was never the same player the remainder of the season upon his insertion. I think he'll absolutely be in a position to battle for the starting job at right tackle next spring.
Landon Walker was a four-star prospect in the 2007 class. He red-shirted after suffering a knee injury that August. He's still got to work on flexibility and they're going to continue to challenge him to address his lower body strength. When you go that long with not being able to strength train your lower body, a lot of kids get discouraged and don't put a lot of emphasis on building that back up. I think he fell into that category. Landon, as a red-shirt freshman, gave them 10 starts and over 650 snaps in 2008. He'll duplicate that again in 2009, and will go into the spring as the starter.
Wilson Norris was a three-star prospect in that 2007 class as well. He's probably the most raw of their interior linemen, but they knew that when they offered. Tough kid and plays with very good functional strength. Has a really good punch. But given where they were at the start of the season at guard with Thomas, Antoine and David, obviously he was not projected to start ahead of those guys. I think he'll make a move to solidify a two-deep spot next spring.
Kenneth Page is a prospect that we've discussed numerous times on the board. Obviously he did not pan out, but left the program as a red-shirt freshman. So we'll never know the impact he would have made. A lot of people threw dirt on Capote when he was a red-shirt freshman and swore he'd never make it, but there wasn't enough dirt over him apparently, because he developed into a pretty good right tackle for them as a senior, and not because he was a great talent, but because he was a tough kid with an edge, he was extremely strong in his upper body, and for once in his career decided to commit himself. I reiterate this because when a kid has a problem and leaves a program as a freshman, sometimes people rip the kid and say, "Oh well, he'd never amount to something anyway." I just don't believe that's necessarily the case.
As you know, Page piled up nearly three-dozen offers. He was an instate kid. And he was a kid they had recruited harder and longer than anyone. As you have seen, fail to offer a national prospect in-state and you'll be crucified as a coaching staff. None of that matters ultimately if the kid doesn't pan out in the long run, whether he's just a miss or he's a kid that has to exit the program for whatever reason. My point is that nine times out of ten, an offensive line coach at Clemson is going to offer that kid, whether it's Brad Scott or John Doe.
Same with Cory Lambert. Lambert, physically, is what they thought he was in the recruiting process. You've got a kid with long arms, quick feet, athleticism, he's flexible, he's smart, he carries a 440-pound bench press, but would be the direct opposite mentally of a kid like Nathan Bennett. Lambert not developing as an impact player doesn't have as much to do with where he's at physically so much as it does mentally. And again, next time there's a kid with his high school film and build/size/athleticism, a Clemson offensive line coach will offer him nine times out of ten. Obviously, in hindsight, as you evaluate his career four years later, he's not made the impact they felt he would.
McClain also was a part of that 2008 class, and was a national prospect. He's committed more missed assignments than any other player on the offensive line this year, but they like his potential and feel he's going to be a really good player. I personally do not understand why Mason Cloy has not been starting at right guard for much of the year or since Dalton Freeman took the starting job at center. I think as of today, Mason is their best right guard. But McClain, again, was highly recruited and had over two-dozen offers. A lot of SEC and ACC offensive line coaches signed off on him.
Likewise with Dalton Freeman of Pelion, a four-star prospect, who finished the regular season with seven consecutive starts. They feel they hit on him as well, and he'll go into the spring atop the depth chart at center.
Sanders, who was recruited by Vic Koenning, but of course approved by Brad, was a kid they saw at a jamboree in the spring and couldn't lay off of. They moved on him pretty quickly, and he was in the boat before Memorial Day of 2007. He's a red-shirt freshman this season who will try to put himself in a position to work in the two-deep at one of the guard spots next spring.
In the 2009 class, J.K., a national prospect, is a player they feel they hit on. But he's about to have his second back surgery, and is not a projection to be in the mix next spring, as a result. Physically, he's what they felt he was in the recruiting process, having worked with him in the spring and again this August. I do think he would have indeed avoided a red-shirt had he not sustained the injury in camp.
Also in the class, Brandon Thomas, who I think is the most talented and naturally gifted offensive lineman on the roster. It was best for Brandon and the team for him to red-shirt this season, given his ACL injury last fall and the ongoing rehab. I'd be very surprised if he's not their firm second-team left tackle next spring. I see him as a three-year starter and a major impact player. And of the offensive tackles signed at Clemson since I've covered the program which dates back to 1993, I'd rate Brandon ahead of all of them. He's also the only 285-pound offensive lineman I've seen at Clemson that has a sub 4.7 electronic time in the 40. That's booking!
On your question of what percentages we're looking at with regard to other top 25 programs, I couldn't help you there. My apologies.
Jon S. - Charleston, SC - Hypothetically speaking, which player recruited by both teams (Clemson and South Carolina) would have made the biggest difference had he signed with the opposite team? I feel pretty confident they would take Spiller, but which Gamecock would have made the biggest impact had he signed with us instead?
Cris Ard - I'd have to say a tie between Eric Norwood and Alshon Jeffery. They showed very little interest in Norwood, and Jeffery is a kid they were going to offer, had he visited, but they were never able to get him on campus. And for the record, Clemson won't get prospects out of St. Matthews - Calhoun County. No shot.
You mentioned Spiller, and I'd have to agree with you there, given that for much of the Spurrier era they have been looking for that dynamic back that's a home run threat. And I think they have that now, personally, because I like the Miles kid, and we always loved Jarvis Giles in the recruiting process. A lot of what they're able to do with those two will be evident as they continue to improve up front in my opinion.
John S. - Knoxville, TN - Really great Web site. Thank you for all for the endless work and hours on behalf of our idolatry. Two questions. #1., the discussion on this site about coaching is intense and unending. Is Kyle Parker's development to be credited to Napier and Dabo or is he just that phenomenal of a talent? Can I say that he has been coached up by this staff? No one seems to have mentioned this specific question of coaching during this run to the ACC title game. #2., Is he the best QB to have ever played at Clemson from a raw talent standpoint (arm strength, vision, instinct)? Is he the reason we got over the hump?
Cris Ard - Thanks a lot for the compliments. I think Kyle Parker would be the first to tell you that Billy and Dabo deserve a lot of credit with regard to his progression. But ultimately talented players make coaches look great. No doubt about that. You'll always try to coach and develop a player, but all the halftime speeches, all the strength training sessions and all the film meetings and practices will do little good if the player isn't committed. Kelvin Grant was one of the most talented wide receivers I had ever seen at Clemson, but never committed himself, and was a constant problem for coaches. And that's why he didn't succeed. It had nothing to do with them missing on him as an athlete or a player with potential to be a big-time impact on this level.
Parker is a very intelligent kid, a hard worker, does what he's told, he's got a good attitude, he's coachable, comes from a good pedigree, and has a rifle for an arm.
But I wouldn't rate him as the best QB Clemson has had from a talent standpoint. I've only covered the program since '93, and the two most talented QBs I've seen on campus in that span are Woodrow Dantzler and Tajh Boyd. I'd rate Boyd ahead of Dantzler and Parker. Parker or Charlie would be third. That doesn't mean Boyd wins the starting job in 2010, but I do expect him to make a run at it.
I think there are a variety of reasons Clemson has put itself in a position to win the Atlantic. No. 1, it's a good team. They've been good enough on offense, and for much of the season good on defense. When your defense ranks inside of the top 20 five consecutive years, you figure you'll be in the hunt for a division title each season. Likewise this fall.
Also, the six-game run, minus Miami and Florida State, was built by stomping on some not-so-good teams. Wake Forest, I felt, wasn't very strong on defense. Coastal was an under-matched opponent obviously. N.C. State, for the second straight year, has been decimated with injuries, and Virginia was wrapping up its third losing season in the last four years. Personnel-wise, Miami and Florida State were the best teams they faced in that six-game run. I'm still searching for why and how Florida State - even with its inexperience up front - is this bad on defense, given their personnel.
Timing, rolling through a weak division, improving as a team, taking care of the football, the maturation of a QB who's made less mistakes in the second half of a season, the usage of Spiller, Palmer and Allen in their pass game and the defense and its ability to make big plays and get turnovers, those are primary factors in them winning the division. I felt they were the most complete team in the division for much of this season, just as I felt they were in 2006, which will probably go down as one of the all-time worst coaching jobs in Clemson history, considering that year's late-season meltdown.
***
To chat with other Clemson fans about this article please visit The West Zone message board.