Man among boys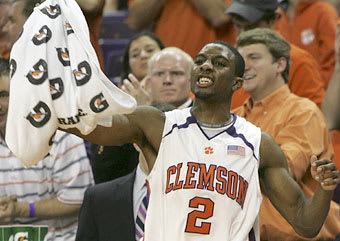 CLEMSON – The record will show that Clemson did a lot of impressive things in the second half of Tuesday's trouncing of Maryland.
The 29-point margin of victory was the No. 13 Tigers' largest in the series against the Terrapins, surpassing a 22-point win in 1977.
Nine 3-point attempts splashed through the net after halftime. Six players ended up in double figures, led by 16 from Terrence Oglesby and 15 from Demontez Stitt.
All that is nice and all. But the statistics sheet does not come close to capturing just how thoroughly Trevor Booker changed the game in the second half.
During a six-minute span in which Clemson turned a five-point lead into a bloodletting, Booker did just about everything – including a savage one-handed follow slam that people were still raving about a half-hour after the game's conclusion. And probably still talking about it now.
"I think that was probably one of the best dunks I've seen in my life," Stitt said of Booker's stuff at the 17:32 mark. "It seemed like he jumped twice. He missed it the first time going up, and he was still in the air when the ball was coming down and he dunked it. He dunked it hard."
Sixth-year coach Oliver Purnell says it's time for Booker to "kind of be the man," and Booker's singular masculinity wasn't in question as he helped the Tigers recover from Sunday's deflating overtime loss at Virginia.
Booker scored just 11 points and took a mere five shots (making all five), but he did so many other things – and at just the right time.
Clemson improved to 21-4 and 7-4 in the ACC, moving into a second-place tie with Duke. The Tigers beat Maryland (16-9, 5-6) for the sixth time in the past eight meetings and recorded their sixth double-digit ACC win, tying a school record.
"Our guys were just kind of in it for the long haul," Purnell said. "They were in it for the fight. I think the recognition that this was a stretch-run ACC game on our home court certainly sank in. One of our better games of the year at an opportune time."
Booker elevated his all-around game at a most opportune time.
You can start with the 14 rebounds. Then there were the three assists, two steals and two blocks.
But even then, the statistics didn't adequately illustrate Booker's presence. You kind of had to be there and see it all for yourself.
"You need your really good players, your great players, to step up and make plays to excite you, get you on runs, make stops at big times," Purnell said.
Booker did all that to extricate Clemson from a close game and wash away the tense vibes that filled Littlejohn Coliseum for the first half and the start of the second.
The Tigers were up six at halftime and five with 17:43 left. That's when Booker, whose production was minimal in the final 25 minutes at Virginia, decided to grab the game by the throat.
And not let go.
Everything changed after Oglesby fired a 3-pointer from the left corner and missed, the ball bounding high off the backboard. Booker had an open path to the basket, and he rose high … and higher … and higher.
Somehow, Booker leapt high enough to pluck the ball out of the air with his left hand and throw down a dunk that unleashed a deafening roar from the crowd.
"Once I dunked it, the crowd went crazy," said Booker, a junior forward who's vying for All-ACC honors. "The bench went crazy. My other teammates, it probably sent chills through their body."
It did.
"It was tremendous," said K.C. Rivers. "I've seen Booker do some amazing dunks, when we're in the summer time when we're just messing around and stuff. But that there was more of a motivational boost of momentum. It got the crowd involved and everything."
It got the rest of the team involved and everything, too. From that point forward, the Tigers played on a different level on both ends of the floor.
"I think we're a team that feeds off of energy," said Stitt, who hit three 3-pointers on six attempts and registered his highest point total since a Dec. 2 win at Illinois.
"And once plays like that hit us and the whole building erupts, I think we all get into it. That changed the game a lot."
On the next trip down the floor, Booker deftly threaded a pass to Jerai Grant for a dunk. On the next possession, he hit an open 3-pointer from the top of the key.
Thirty seconds later, he chased down a fast break and caused a turnover by poking the ball away. On Maryland's next possession, he blocked a fast-break layup attempt by Cliff Tucker.
And on the other end, he spotted a double-team and passed out to Andre Young for an open 3 to put Clemson up 14.
With 11:43 remaining, Booker ripped down a missed shot by David Potter and Tanner Smith hit a 3 to fatten the margin to 62-43.
Soon thereafter, he chased down another fast break and caused yet another turnover.
And finally, a sweet pass to Rivers on a cut to put Clemson up 24 with 10:18 left.
Clemson scored on 16 of 19 possessions to break free from the tight circumstances, and Booker's fingerprints were all over the surge.
"I try to do whatever I can to help my team out," he said. "Tonight I think it was my passing. They tried to double down on me, I kicked it out, we moved the ball around and we knocked down the open shots. And that's what got us our win."
For a while now, Purnell has been preaching that Booker needs to find different ways to contribute when opponents devote so much attention to him in the post.
"When Book goes and gets it – when he blocks shots, he runs, he passes -- he changes the game," Purnell said. "He has that kind of ability. If teams decide to take him away and they're going to double him every time, he's not going to get a lot of shots. But then he's got to go get it on the glass, like he did there in spectacular fashion. Which ignited our team."
When opponents double Booker, that leaves someone open on the perimeter. And if the Tigers are hot from outside, it's trouble.
Six different players hit 3-pointers in the second half, when the Tigers shot 68.6 from the field. Clemson ended up 12-of-26 from long range for the game.
"You pick your poison," said Maryland coach Gary Williams. "Booker is really a good player. You have to gamble a little bit, but I don't think you can let Booker go crazy."
Said Purnell: "If teams are going to double like that and we make shots, it could be a long night for them. Because we have the ability to go on a tear from outside as long as we're getting great shots."
On this night, the Tigers' best shot didn't come from outside. It came on Booker's jaw-dropping slam, and nothing was quite the same thereafter.
"He had that one ridiculous putback that will probably be a top 10 play of the week," said Maryland's Dave Neal. "With a play like that, he gets hot. And when you have a play like that in your home arena and you get the crowd rolling, that helps your team a lot."
Purnell said Booker's dunk "ignited us and kind of deflated them."
Booker's take: "It hit the backboard, and I didn't know if I was going to be able to get it or not. I just caught it and threw it down."
***
To chat with other Clemson fans about this article please visit The West Zone message board.