Morris mum on SMU job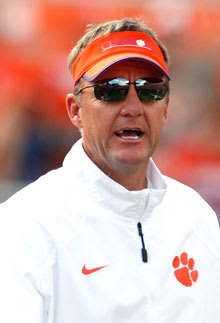 CLEMSON -- It's quite possible Chad Morris has coached his last game as Clemson's offensive coordinator. But if indeed that is the case, Morris wasn't ready to talk about it Saturday.
The fourth-year Tiger coach, the highest-paid assistant coach in college football, has been linked to the SMU head coaching opening for the last several weeks with rumors intensifying over the last 48 hours, including reports stating that Morris has already agreed in principle to take a deal with the Mustangs.
"I have not agreed to anything with SMU," Morris said affirmatively Saturday following the Tigers' 35-17 win over arch-rival South Carolina.
Morris has been a serious candidate for several head coaching jobs in recent years, notably N.C. State, Texas Tech and Louisville.
SMU would provide the Texas native an opportunity to return to the Lone Star State and a chance to build further on what June Jones started in Dallas just over seven years ago. Jones resigned his post as SMU's head coach in September.
Said head coach Dabo Swinney when asked about Morris and SMU: "If Chad has an opportunity and it's something he wants to do and feels good about, I wish him nothing but the best. He's helped us and we've helped him. Nobody would be happier for him than me."
Morris would neither confirm nor deny that he would be in Dallas next week.
"I had to check twitter this morning to see where I was," the coach said jokingly. "Everybody had me everywhere else. The truth of the matter is it's not about me tonight. It's about these kids and these fans."
Said Morris: "When the time comes, we'll come out and say what needs to be said. For now, we're going to enjoy the night and I appreciate y'all respecting that."
Venables shoots down Texas A&M rumors. Clemson defensive coordinator Brent Venables also has seen his name surface on the coaching rumor mill, most recently with Texas A&M late this week.
Asked about his candidacy for the defensive coordinator post in College Station, Venables responded, "Are you kidding me? I'm the definition of All-In."
***
To chat with other Clemson fans about this article please visit The West Zone message board.