No. 18 Clemson falls to Va. Tech 5-2 Friday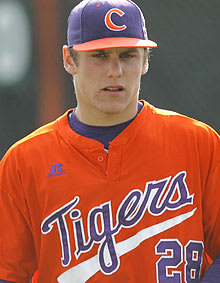 Senior righthander Rhett Ballard pitched 7.0 strong innings to lead Virginia Tech to a 5-2 win over #18 Clemson in front of 1,097 fans at English Field on Friday. The Hokies, who took a 1-0 series lead, improved to 23-12 overall and 8-10 in the ACC. The Tigers dropped to 25-13 overall and 11-8 in ACC play.
Ballard (5-2) gave up just five hits, two runs, and four walks with seven strikeouts in 7.0 innings pitched to earn the win. Sean McDermott pitched 2.0 scoreless innings of one-hit ball to record his first career save.
Tiger starter Chris Dwyer (4-3) suffered the loss, as he allowed nine hits, three runs (two earned), and two walks with eight strikeouts.
The Tigers took the game's first lead in the top of the third inning. Mike Freeman belted a one-out triple off the right-field wall on an 0-2 pitch and scored on Addison Johnson's sacrifice fly to left field.
The Hokies responded with a run in the bottom of the third inning. Ronnie Shaban led off with a double to left-center and Ty Hohman followed with a walk. After the next two Hokies were retired, Austin Wates fisted a two-out single to center to score Shaban.
The Tigers pitched out of a first-and-third, no-out jam in the fifth inning to keep the score tied. Hohman led off with a single through the right side and went to third on a perfectly-executed hit-and-run on Klint Reed's single through the right side. Steve Bumbry laid down a sacrifice bunt to advance Reed to second as Hohman held at third. Wates followed with a chopper back to Dwyer, as he held Hohman at third before tossing to first for out #2.
Anthony Sosnoskie then hit a grounder over the third-base bag. Matt Sanders made the backhand stop, planted, and threw a one-hop strike to first for the inning-ending out to save at least one run.
However, the Hokies took the lead in the sixth inning with two runs thanks in part to two Tiger errors. Steve Domecus led off with a line-drive single to right field and advanced to third on Dwyer's errant throw to first on a failed pickoff attempt. Mike Kaminski then bounced a single over Dwyer's glove and past a drawn-in infield to score Domecus. After Kaminski was caught stealing at second and Michael Seaborn singled through the left side, Shaban laced a single up the middle, as Seaborn hustled to third. Johnson's throw went into the third-base dugout, allowing Seaborn to score and Shaban to move to third. Clinton McKinney entered the game on the mound for the Tigers and kept the damage to a minimum by retiring the next two Hokies without allowing the runner on third to score.
Wilson Boyd cut Virginia Tech's lead in half when he led off the top of the seventh inning with an opposite-field home run to left field, his second long ball of the season.
But the Hokies tripled their lead in the bottom of the seventh inning thanks to two two-out, run-scoring hits. Wates drew a one-out walk and went to third on Sosnoskie's double to left-center. After Sosnoskie was picked off second, Domecus ripped a two-out single to center to score Wates. Kaminski then belted a triple to center to plate Domecus.
Reed, Domecus, Kaminski, and Shaban all had two hits apiece to lead the Hokies' 12-hit attack. Jeff Schaus went 2-for-4 with a double to pace Clemson, who had six hits in the game.
The Hokies' win snapped Clemson's 11-game winning streak in the series. Their last win over the Tigers came in the 2005 series-opener in Blacksburg. Virginia Tech also upped its current winning streak to seven games overall and five games in ACC play. Both are the longest current winning streaks in the ACC.
Clemson and Virginia Tech will play game-two of the three-game series on Saturday at 5:30 PM.
***
To chat with other Clemson fans about this article please visit The West Zone message board.