{{ timeAgo('2023-01-24 22:22:22 -0600') }}
basketball
Edit
No. 24 Clemson runs past Georgia Tech in 72-51 win
CLEMSON — Clemson has its best start ever in Atlantic Coast Conference play after disposing of Georgia Tech late Tuesday night in Littlejohn Coliseum.
The Tigers (17-4, 9-1) never trailed the Yellow Jackets, holding a double-digit lead for much of the way en route to a 72-51 win. It marked Clemson's third straight win over Tech who fell to 8-12 and 1-9 in league play.
Become a subscriber at Tigerillustrated.com!
Clemson, which remained in the AP Poll at No. 24 after splitting last week's games between Wake Forest and Virginia Tech, also maintained its lead atop the ACC standings.
P.J. Hall's 17 points were a game-high, while true freshman forward Chauncey Wiggins was impressive in scoring a career-high 12 points in 18 minutes of work.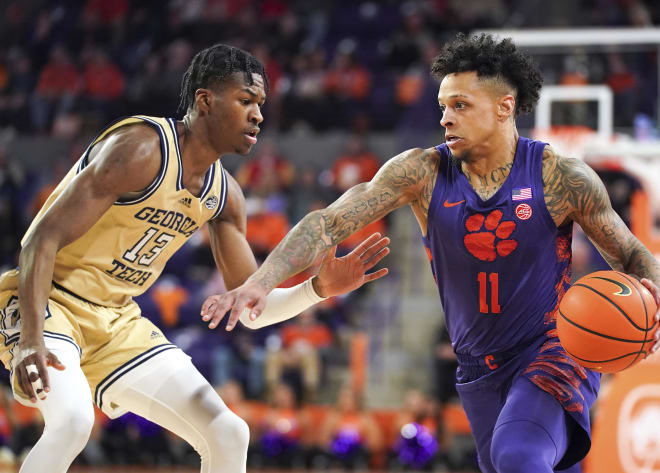 Clemson quickly jumped out to a 12-0 lead highlighted by three-pointers from Hunter Tyson and Brevin Galloway. Galloway scored nine of the Tigers' first 17 points and would later go into halftime with a game-high 12 points.
Tech missed its first four shots but got on the board with a jumper from Deivon Smith just under three minutes in.
Official NCAA Transfer Portal Tracker & Database at Tigerillustrated.com
The Yellow Jackets continued to claw their way back in the first period, narrowing Clemson's lead to 23-15 after a Jalon Moore three-pointer with 9:29 left before the break. Javon Franklin's jumper on the next possession would spur a 7-0 Tech run and cut the Tigers' lead to six. Several minutes later Smith's basket would cut Clemson's lead to three at 25-22.
Wiggins would respond with a long-range jumper on Clemson's next possession. The freshman forward scored nine first-half points. Tech would not convert on the other end and on the Tigers' next possession Galloway would sink a three-pointer from the corner to push Clemson's lead back to nine at 31-22. Five minutes later the Tigers would maintain their nine-point advantage with a 37-28 lead at the break.
Join Tigerillustrated.com subscribers on The West Zone message board!
The Yellow Jackets were not able to keep pace the rest of the night as the Tigers enjoyed a double-digit lead for much of the second period.
Dillon Hunter's three-pointer just over five minutes in gave Clemson a 45-32 advantage, at that point its largest lead of the game. Hunter, who added a career-high nine points, would go on to score seven in a row.
Hall's three-pointer with 9:59 remaining extended the Tigers' advantage to 56-42. From there the Tigers expanded their lead and would not look back.
Wiggins capped all scoring with 28 seconds left after sinking a three-pointer from the corner, followed by a strut up the court as time expired.
Franklin led all Tech scorers with 12 points while Smith added 11 and a game-high 10 rebounds. The Yellow Jackets shot 34.4-percent from the field and hit just 4-of-23 (17.4%) baskets from long range. Tech went to the foul line just four times and converted three shots.
Hall and Wiggins were joined by Galloway (14) and Tyson (12) in reaching double figures in scoring. Tyson added a team-high eight rebounds.
Clemson shot 52.9% and converted 9-of-20 (45%) from beyond the arc, while hitting 9-of-11 (81.8%) from the foul line. The Tigers came in fifth nationally and first in the ACC in free throw percentage.
Clemson head coach Brad Brownell is now 20-8 all-time versus Georgia Tech.
The Tigers will travel to Tallahassee (Fla.) this weekend for a Saturday matchup with Florida State (7-14, 5-5). The game is set for a 5:00 p.m. ET tip and will be televised by the ACC Network.
Tuesday DEALS on officially-licensed CLEMSON apparel and gear at The Tiger Fan Shop HERE!