Schaus tallies four hits in 8-5 Clemson win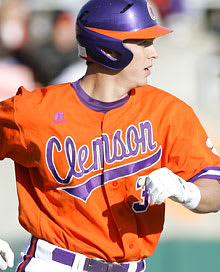 Jeff Schaus went 4-for-5 with a homer and four RBIs and Casey Harman pitched 6.2 strong innings to lead #20 Clemson to an 8-5 victory over #4 Georgia Tech in front of 6,109 fans at Doug Kingsmore Stadium on Saturday night.
The Tigers, who evened the series 1-1, improved to 29-15 overall and 13-10 in the ACC, while the Yellow Jackets dropped to 28-10-1 overall and 14-6-1 in ACC play.
Harman (5-3) earned the win in a starting role for the Tigers. The sophomore lefthander allowed seven hits, two runs, and one walk with four strikeouts in 6.2 innings pitched. Yellow Jacket starter Zach Von Tersch (6-2) suffered the loss, as he yielded four hits, six runs (five earned), and four walks with one strikeout in 3.2 innings pitched.
After Schaus' flyout in the first inning that advanced a runner to third and set up a sacrifice fly by the next Tiger, he tallied a hit in each of his last four plate appearances. He hit a three-run homer in the third inning that gave the Tigers the lead for good and added three singles later in the game.
The Tigers grabbed a 2-0 lead in the first inning. Chris Epps led off with an infield single on an 0-2 pitch and scored when Mike Freeman followed with a double to right-center. Schaus' flyout to left-center moved Freeman to third, then Ben Paulsen lofted a sacrifice fly to left-center to score Freeman.
The Yellow Jackets responded with two runs in the top of the third inning to tie the score. Cole Leonida lined a one-out single to left field and Jeff Rowland followed with a single to right. Derek Dietrich then laced a single to left-center that scored Leonida. Rowland advanced to third on the play, but Dietrich was out at second trying to stretch it into a double. Jason Haniger then blooped a two-out single to center to score Rowland.
In the bottom of the third inning, the Tigers regained the lead with three runs. Epps led off and reached on a fielding error by first-baseman Tony Plagman. After moving to second base on a wild pitch, Epps advanced to third on Freeman's infield single. Schaus then belted a three-run homer to right-center, his eighth long ball of the season.
Clemson extended its lead in the fourth inning. John Nester led off with a walk but was erased on Jason Stolz's fielder's choice. Stolz was also erased on Epps' fielder's choice. After Freeman walked, Schaus ripped an 0-2 pitch through the right side for a two-out single to score Epps. Freeman then tried to score on a pitch that went to the backstop, but Leonida retrieved the ball and threw to Andrew Robinson at the plate for the out.
Another two-out hit enabled the Tigers to add to their lead in the fifth inning. Kyle Parker hit a one-out single up the middle and advanced to second on Wilson Boyd's groundout. Brad Miller then grounded a two-out single through the left side to score Parker, giving Clemson a 7-2 lead.
In the seventh inning, Miller reached on a two-out single up the middle, stole second, and scored on Nester's bloop single to left-center.
The Yellow Jackets responded with a run in the eighth inning. Rowland drew a one-out walk, stole second, and moved to third on a wild pitch. Another wild pitch enabled Rowland to score, cutting Clemson's lead to 8-3.
Georgia Tech kept the pressure on in the ninth inning. Luke Murton led off with a double down the left-field line and Matt Skole followed with a long two-run homer to right-center, his 11th long ball of the season. Two batters later, pinch-hitter Patrick Long laced a one-out double to left-center. But Tomas Cruz retired the next two Yellow Jackets to end the game.
Epps, a native of Stone Mountain, GA who started in the leadoff spot in the batting order for the first time this season, scored three runs and stole a base for the Tigers, who outhit Georgia Tech 12-10. Freeman went 2-for-3 with a double, two runs, an RBI, and two walks, while Miller and Nester both went 2-for-3 with an RBI and walk. The Tigers were also aided by going 5-for-8 with runners in scoring position and 7-for-14 with two outs.
Rowland led the Yellow Jackets with two hits, two runs, and a walk, while Murton added two hits.
Clemson and Georgia Tech will play the series-finale of the three-game series on Sunday at 1:00 PM.
***
To chat with other Clemson fans about this article please visit The West Zone message board.