Schaus walkoff slam lifts Tigers over Coastal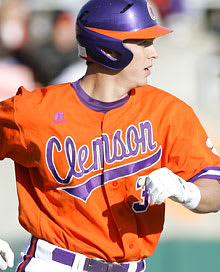 With two outs in the ninth inning, Jeff Schaus blasted the first pitch over the fence in right-field for a walkoff grand slam to lift #20 Clemson to a 5-3 victory over #19 Coastal Carolina on Tuesday night at Doug Kingsmore Stadium.
The Tigers, who upped their winning streak over the Chanticleers to seven games, improved to 27-14, while Coastal Carolina fell to 30-10.
Tiger reliever Clinton McKinney (3-0) earned the win, as he pitched a hitless and scoreless ninth inning with three strikeouts. Starter Graham Stoneburner pitched 6.0 strong innings, allowing just five hits, one unearned run, and two walks with five strikeouts.
Chanticleer closer Nick McCully (3-1) suffered the loss. In 0.2 innings pitched, he yielded two hits, two walks, and four runs. The junior righthander entered the game with a stellar 0.98 ERA and eight saves. He had only allowed three runs in 27.2 innings pitched all season as well.
The Tigers took the game's first lead in the third inning thanks to two Chanticleer miscues. Schaus reached with two outs on a throwing error by shortstop Taylor Motter and stole second. Mike Freeman then reached on a fielding error by third-baseman Tyler Bortnick. Ben Paulsen followed with a single up the middle to score Schaus.
In the sixth inning, Adam Rice reached on an infield single and moved to second on a wild pitch. Bortnick followed with a single through the left side that advanced Rice to third, then Rice scored on the play when Wilson Boyd booted the ball in left field.
The Chanticleers mounted a two-out rally to take the lead in the eighth inning. After the first two batters were retired, Rice laced a single to right field. Bortnick followed with a two-run homer to left-center to give Coastal Carolina a 3-1 lead. It was Bortnick's ninth home run of the season.
In the ninth inning, Boyd flied out to center to start the inning. Brad Miller started the rally with a walk and went to second on Matt Sanders' line-drive single to left field. Pinch-hitter Chris Epps loaded the bases with a walk after fouling off two full-count pitches. After Johnson struck out for out #2, Schaus, who was 0-for-4 in the game prior to the plate appearance, belted the first pitch of his at-bat deep over the fence in right field for a walkoff grand slam.
The long ball was the sophomore's seventh of the season and 10th of his career. His first career homer came at Doug Kingsmore Stadium in 2008, but his next eight long balls were all hit away from home. Therefore, his grand slam against the Chanticleers was only his second career homer at Doug Kingsmore Stadium.
It was Clemson's first walkoff home run since April 27, 2007, when Doug Hogan hit a walkoff solo homer to top Georgia Tech 3-2 in 11 innings. It was also the second walkoff grand slam in Tiger history, matching the walkoff grand slam hit by Tyler Colvin in the Tigers' 11-8 win over Oral Roberts in the 2006 Clemson Super Regional.
Schaus scored two runs along with his grand slam, while Paulsen went 3-for-4 with a double and RBI to lead Clemson, who had seven hits. Rice went 2-for-4 with two runs, while Bortnick went 2-for-3 with a homer and two RBIs for the Chanticleers, who also amassed seven hits in the game.
Clemson will travel to Columbia to take on South Carolina in the last of four regular-season matchups on Wednesday at 7:00 PM.
***
To chat with other Clemson fans about this article please visit The West Zone message board.