Six former Tigers to attend NFL combine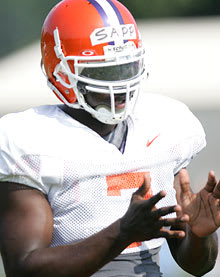 CLEMSON, S.C. -- Six seniors from the 2009 Clemson football team will attend the NFL Combine in Indianapolis, IN Feb. 27 to March 2. The event evaluates prospects for the NFL draft, which will be held in New York City April 22-24.
Leading the way is ACC Player of the Year C.J. Spiller, who figures to be a first-round draft choice in the NFL draft. Spiller finished sixth in the voting for the Heisman Trophy and was named the ACC Player of the Year for 2009. The unanimous first-team All-American set an ACC record for all-purpose running yards overall (2680) and on a per game basis (191.4). He was the only player in college football to score a touchdown in every one of his team's games last year.
Spiller's cohort in terms of all-purpose running was Jacoby Ford and he will also attend the combine this year. The second-team All-ACC receiver led the Tigers with 56 catches for 779 yards and six touchdowns. He ranked second to Spiller in all-purpose yardage this year with 1218.
Ford and Spiller, who graduated from Clemson together on December 17, combined for 11,671 all-purpose yards, the most by the same duo in NCAA Division I history.
Four Clemson defensive players have been invited to the combine. Crezdon Butler and Chris Chancellor started each of the last 40 games together at Clemson and both will attend the combine. Butler finished his career tied for second in school history in interception return yards with 243 and he had 13 career takeaways. Chancellor set the Clemson record for starts by a defensive back with 44 and he finished his career with nine interceptions and 41 career passes broken up.
Clemson ranked in the top 20 in the nation in pass defense all four years Butler and Chancellor played in the Clemson secondary.
Ricky Sapp and Kavell Conner are two more 2009 Clemson defensive players who will attend the combine. Sapp had 60 tackles, including a team best 15 tackles for loss and five sacks. Conner led the Tigers in tackles with 111, including eight tackles for loss. He had 15 tackles in Clemson's win over Kentucky in the Music City Bowl to put him over 300 for his career (313).
The workouts at the NFL Combine will be televised by the NFL Network. Coverage starts each day at 11:00 AM. Spiller and Ford will work out on Sunday, Feb. 28, Sapp and Conner will work out on Monday, March 1 and Chancellor and Butler will work out on Tuesday, March 2.


***
To chat with other Clemson fans about this article please visit The West Zone message board.