Sunday teleconference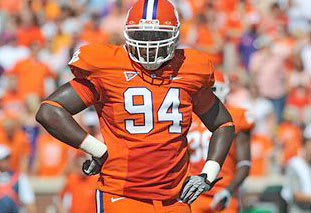 CLEMSON, S.C. -- Clemson head football coach Dabo Swinney addressed members of the media Sunday as part of his weekly teleconference where he looked back on his team's 31-7 win over Maryland while also looking ahead to this week's Georgia Tech game.
Opening statement: "Hope y'all have had a good day. Just getting ready for Georgia Tech. We're turning the page pretty quickly today trying to stay on track. Yesterday was a good team win. We had good contributions at critical times. We grew up a lot with how we came out in the third quarter. After one possession in the third it's a 24-7 game. At that point, you really want to take care of the ball and let your defense take over.
"I'm proud of the guys. Tim Bourret told me that's the most points we've scored on coach Friedgen's team. Now we're getting them ready for a good Georgia Tech team. I thought the team played really hard. I thought they played together. They were excited for each other.
"There are still a lot of things we have to work on, but it's better working on those things after a win than after a close loss. I just got done with our staff meeting. We know what we have to deal with this week. It's a team that's had our number. We have to get better to beat them."
Q. Do you have more defensive huddling this week considering the problems they've given you offensively?
Dabo. "I try to be around both sides as much as I can. I do spend more time with the offense. But this week I'll be over there. I need to be in the loop on what's going on. The biggest thing is this is not overly complicated. It's a matter of being disciplined for four quarters and doing your job. And you have to win your matchups. The good news is we've played these guys a bunch. We played them twice last year. We got a lot of guys back with some experience against them. They didn't force a punt and we didn't force a punt last time. Hopefully we can do better this week."
Q. Looks like it's not a problem with receivers getting open. It's when they get open, they have a drop or Kyle loses them.
Dabo. "It hurt us with Nuke going out. We were just getting some good chemistry. We didn't throw the ball a lot yesterday. We had six drops yesterday, two for touchdowns. We had a chance to blow that game open. The tight end had a couple, a running back had some. We didn't have a receiver with a drop. Those are things we have to continue to work through and get in that rhythm that we want to have. It'll come. The biggest thing is that we found a way to win. Our guys found a way to win. To be honest, if we could play them again, we would want to throw the ball more, but up 24-7, we didn't have to throw as much."
Q. How much are you looking for a vertical passing game?
Dabo. "We have to continue to work it. We did not do a lot yesterday. We had a big play downfield yesterday on the second play and hit Dwayne. We went right back down and didn't make a play. We have to get Jaron more involved. He has the ability. He's the guy that we've got to get involved more and make sure he's getting some touches. We'll do a better job of that. Yesterday was a crazy day as to how the game was playing out. It was a three-score game and we just felt like we had good control over it."
Q. Andre didn't have a lot of success running particularly on first down. Was that a function of what they were doing or more of what you were trying to do?
Dabo. "It was a big function of what they were doing, no doubt about that. They were really selling out. They do a lot of unusual things. And they had some new wrinkles. The things we practiced against, we did a good job with. We probably should have thrown the ball more, to be honest with you. We had some things open in the pass game, but after we went up 24-7, we got more conservative."
Q. Any injuries?
Dabo. "I think we're in pretty good shape. I think everybody should be fine."


***
To chat with other Clemson fans about this article please visit The West Zone message board.