Sweep dreams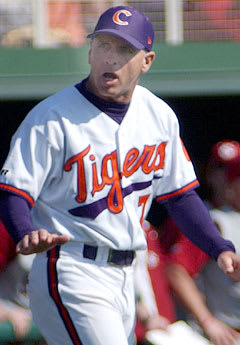 CLEMSON, S.C. -- Late in Friday night's game against Florida State, Clemson fans were all hot and bothered that the home-plate umpire wasn't heeding their requests to tidy up home plate.
As the plate got dirtier, the faithful at Doug Kingsmore Stadium got madder.
Then, as his team prepared for a turn to bat, Jack Leggett quickly dusted off the plate on his way to the third-base coach's box and drew a spirited response from the crowd.
The ease by which Leggett swept off the plate mirrored the way Clemson swept away No. 7 Florida State in games 2 and 3 of this crucial series.
Not many of the orange-clad folks in attendance for Saturday's 8-3 victory over the Seminoles anticipated this kind of result.
But here the Tigers are, Atlantic Division champs in the ACC despite a difficult, often disappointing season. They'll be seeded No. 2 in next week's conference tournament in Greensboro, N.C., facing N.C. State, Georgia Tech and Virginia Tech during a four-day stretch between Wednesday and Saturday.
Clemson closed the regular season with a 37-19 record, 18-12 in the ACC.
"It's a long season," Leggett said. "It's a marathon. That's why you've got to kind of keep your head in the ballgame. You can't panic. Baseball is a funny game. It's a long season, and you've just got to keep working your way and grinding your way through it. Because eventually, you're going to come back and start playing better baseball if you've got yourself a good team to begin with."
Clemson entered the final series of the regular season needing to sweep Florida State to win the division and avoid a fifth or sixth seed at the ACC Tournament.
And sweeping Florida State is not an easy task. It hadn't been done since 2006, when it happened on this very field.
Furthermore, the Seminoles had won seven of nine ACC series this season - including five straight. They had not lost three straight games overall since last season.
And the Tigers were coming off a desultory trip to Winston-Salem, N.C., where they lost two of three games to lowly Wake Forest.
Leggett kept preaching that this team wasn't far away from a breakthrough, and the Tigers now appear to be playing their best baseball at a most opportune time.
It feels a lot like the 17-2 start that earned them a Top 10 ranking. Clemson lost 15 of its next 23 but has won 12 of the past 14.
"We started out the best we could early on in the year," said junior catcher John Nester. "I think every team at some point in the year has those couple of weeks where they struggle, and I think we had a week or two longer than we expected."
An NCAA Regional hosting spot might still be a difficult task, but the Tigers can strengthen their case if they keep this up.
After battling back for a 9-8 victory in Thursday's opener, the Tigers beat the Seminoles 8-4 on Friday.
Saturday, they closed the deal on the strength of opportunistic offense and strong pitching. They scored four runs in the third - all with two outs - to take a 7-2 lead and coasted from there.
"I just like the way we swung the bats when we had to, and we played good defense all day long and had great intensity," Leggett said.
The Seminoles totaled 11 hits in the second and third games. Saturday, junior right-hander Alex Frederick pitched 4 2/3 scoreless innings of relief while yielding just one hit and two walks with five strikeouts.
Not bad for a group of pitchers that has experienced plenty of low moments this season.
"I guess you could say we were motivated to show everybody what we have," said Frederick, who gave way to Tomas Cruz for the ninth. "We have a lot of talent and a lot of ability. As everybody keeps maturing and gets more innings, we're just going to get better. And that's what we seem to be doing."
After scoring six runs in the third inning Friday, the Tigers put up three in the first inning Saturday thanks in part to two wild pitches before the Seminoles (39-16, 18-12) cut it to 3-2 in the third.
Clemson answered in its half of the frame - and a miscue by the Seminoles made it all possible.
With two outs and a runner on second, Richie Shaffer struck out swinging but reached first after Florida State's catcher couldn't corral a wild pitch from John Gast.
And the Tigers made the Seminoles pay dearly for the mistake.
Wilson Boyd walked to load the bases, and then Nester - the No. 8 hitter -- battled back from a 1-2 count and drew a walk to plate a run.
"He made a couple of good pitches early on, and then I battled back and fouled a pitch or two off," Nester said of reliever Tyler Everett, one of seven Florida State pitchers who took the mound Saturday.
"He went 3-2 on me, and he tried to go back-to-back sliders. I fouled one of them off, and the next one missed."
Jason Stolz, starting his fourth straight game at shortstop, chopped an infield single to shortstop and Shaffer scored.
Miller, the leadoff man and designated hitter, followed with a 2-RBI single to right that capped the big inning.
"We thought it was crazy that the inning got started with a two-out strikeout," Nester said.
Frederick, who pitched 2 1/3 innings of relief in Thursday's victory, came on in the fourth Saturday after starter Dominic Leone started to run into trouble.
An error by third baseman John Hinson allowed a run, and Parker Brunelle walked to load the bases with one out.
Frederick struck out Devon Travis swinging with a curveball, and then Tyler Holt flied out to center to keep the Tigers up 7-3.
"We were definitely motivated," Frederick said. "We needed to prove ourselves. We needed to prove we aren't an underachieving team, that we are a good team. We have all the talent in front of us. As long as we use it and come to our own abilities, it's going to be good."
It was the fifth time Clemson has swept the Seminoles at Doug Kingsmore since Florida State joined the ACC.
"We're playing much better than we were before," Leggett said. "I'm looking forward to the challenge, looking forward to the opportunity and looking forward to playing more baseball."
Front page photo courtesy of the AP.


***
To chat with other Clemson fans about this article please visit The West Zone message board.