Swinney aiming for spring game record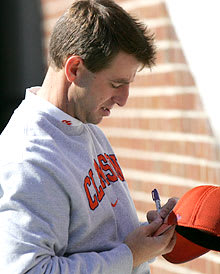 CLEMSON - Clemson head football coach Dabo Swinney said Wednesday he's gunning for a new attendance record. And he wants to set it this Saturday when the Tigers hold their annual spring game in Memorial Stadium. The contest kicks off at 1 p.m.
"I really want to challenge our fans to really show up this weekend. Our attendance record is 20,000. We should easily be able to break that record," he said.
The Tigers began spring drills on March 9, but conclude workouts with Saturday's scrimmage in Death Valley.
"This is a new era at Clemson. Our coaches have worked hard. Our kids have worked hard. We've had a good spring," he said.
"What a great day to be a Clemson Tiger, too. We'll have a lot of recruits here, and for them to see 25-30,000 fans in Death Valley, that would be great.
"I know it's the Masters (weekend), it's Easter weekend, but maybe some of our fans have family in town that they've always wanted to bring up to Clemson. I would encourage them to come, with what we've got going on at Littlejohn from 10-1, then our spring game, then we've got our baseball game. What a great time to come and experience Clemson and support our kids."
Clemson is holding "Be a Tiger Field Day" on the East Lawn of Littlejohn Coliseum Saturday from 10-1. The annual athletics surplus sale is held in Memorial Stadium at 11 a.m. And the Tiger baseball team will play game two of a three-game series versus Miami, beginning at 6:30 Saturday.
Admission for the spring game is free, though Swinney expanded on the One Clemson Furlough Relief Fund program put in place for university employees who endure the most severe financial hardship due to loss of pay from the mandatory five-day furlough.
"We're blessed here in football with what we're able to do for a living. But we're all dealing with tough economic times, myself included, who have been furloughed at least five days with no pay. It doesn't affect me as much as others. We've got some people who make very little but make such a big impact. The furlough is a significant impact on them," added the first-year Tiger coach.
"At every gate I'll have someone there with an all-in bucket. As people enter the gate, I'm asking if they could make some type of donation, whether it's a quarter, a dollar, fifty cents or five dollars. We will donate 100-percent of this to the furlough fund set up on campus so that some people on campus can get relief for the money they lose on furlough days. This is a way we can directly help."
Clemson opens up its 2009 season versus Middle Tennessee in Death Valley on September 5.
***
To chat with other Clemson fans about this article please visit The West Zone message board.