Swinney Camp underway - Camp Insider 1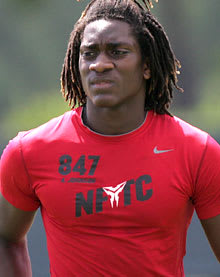 The Tigers kicked off camp on Sunday, a session that began at 3 p.m. The Swinney Camp's first session is slated to run through Tuesday, June 9. The second session will host campers from Wednesday, June 10 through Friday, June 12. Saturday, June 13, the Tigers will host a 7-on-7 passing camp tournament, which will conclude all camp-related activity for the 2009 summer.
Swinney's Stock Up
While the NCAA mandates that camps must be instructional-based, and not recruiting platforms, of course any time college coaching staffs can welcome prospects on campus, regardless of the reason, it is an advantage. It's also an opportunity to sell the program.
While Swinney & Co. will focus a majority of the week on putting campers through the paces, most of whom will not be Division I-A prospects, as is the case with every program's camp, the head coach and staffers will indeed re-establish themselves and their experience in the Division I-A ranks in talks with campers.
Coaches reintroducing themselves to many prospects who only know staffers to this point through hand-written correspondence, email, phone calls and spring stops, will be key, given that the first-year staff, collectively, is still working in many ways to recreate an interest in Clemson's brand, following the transition that began with Swinney's hiring on December 1.
To belabor the obvious, the week also provides yet another opportunity in the post-spring evaluation period for coaches to personally evaluate prospects, as the Tigers' working, active recruiting board changes daily.
Clemson's staff currently has five verbal commits, and aims to take no less than 20 players in its 2010 recruiting class.
Light load in Sunday
The week ahead
Bailey unofficially visited Clemson last month, and gave the trip very high marks. The Tigers and Yellow Jackets have been atop his shortlist for over a month.
2008 Clemson Football Camp Rewind