Swinney previews Ga. Tech, updates Kelly Bryant's status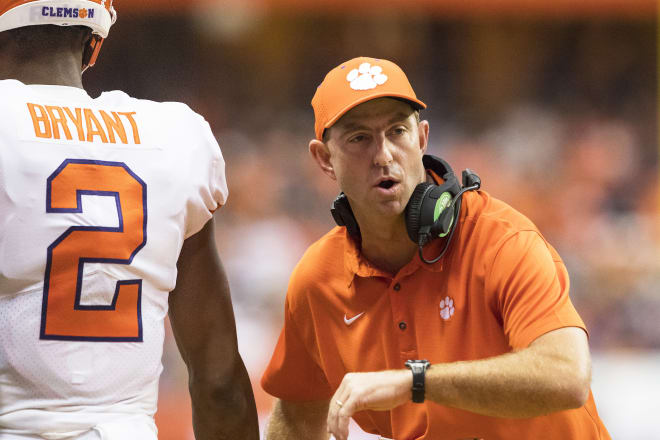 Opening statements: "The eight weeks have flown by. It has been an absolute blur from when we started back in August. It goes fast. I don't have any doubt these next five weeks will go by just as fast. We're just trying to enjoy all of it. I love this time of year. I love the season. It's my favorite time of the year.

"We're excited to have another big, big challenge this week in Georgia Tech. It's a really good football team. They are truly two plays away from being 6-0. I have no idea how they lost to Tennessee, just watching the tape. They dominated that game. The Miami game, what a game. It came down to one fourth and 10 and two defenders go up and it was raining, a ball came down on the other guy's chest and he caught it. This is a 4-2 team but truly, literally two plays away from being undefeated. Paul has done an awesome job getting them in a position to win. We're in for a big fight.
"Offensively we play them every year. We are familiar with who they are. It is never easy to play them. It's always a great undertaking ... the amount of discipline you have to play with. You can't get bored doing your job over and over and over for 60 minutes. Tackling is at a premium. They force you into one-on-one coverage and force open-field tackles. It's a real challenge. Their quarterback has been very impressive. He knows the system. Paul wants a guy who can make the decisions that need to be made and he has that.
"Defensively it's a veteran group. They have shown a lot of different things based on who they played. They played Wake completely different than they played other teams. It's a veteran group especially in the secondary. Ted Roof does as good a job as anybody out there. We have to play well.
"I want to say again it's been a good break for us. I'm proud of the way our guys have responded. We're where we hoped to be in that we are in position. We're one of those teams that has a shot ... for this division and for this conference. Really nothing has changed. It's about how we finish. Our focus is getting back out there and playing the best four quarters we've played this season. That's really our only agenda, play by play."
Q: So it hasn't gotten somewhat easier for you to face Georgia Tech, given that you've seen them every year?
Swinney: "Paul Johnson is a great coach. Georgia Southern, Navy, Georgia Tech ... he is a winner. He has been successful because he executes what he believes. They know how to execute. They've been able to run the triple option offense to perfection. I feel sorry for teams that never play them. It's a challenge. It's assignment football at its finest. You have to have such great technique and discipline. They stress you from all angles. It never gets easy. He's done it for so long. He's got answers. I just have great respect for Paul and what they do."
Q: Where are you health-wise?
Swinney: "We're in a great spot right now, as good as we could be. There isn't a team now going into the last week of October that doesn't have some injuries.
"Kelly Bryant is getting better every single day. He looked great yesterday. If he'll progress throughout the week, he'll be ready to roll. Deshaun played at least three games with a bad shoulder last year. His shoulder was in bad shape and we went about three weeks after that where we didn't practice him until Wednesday. We gave him a shot, cut him loose on Wednesdays and he played through it. Eventually it gets better. I think we're in a good spot.
"Marcus Edmond is back in practice. He's in green, meaning he's in practice but he's still limited. He's been in yellow, meaning he was with the strength coaches. He's much, much better to getting back full time. I think he can really help us."
Q: Talk about leaving Kelly in as long as you did at Syracuse. Had he not gotten the concussion, would you have left him in?
Swinney: "Yes, he would have kept playing unless the trainer said he couldn't or he said he couldn't. Yes. Absolutely."
Q: Any clarity on the kicking situation?
Swinney: "You have as much clarity on the kicking situation as I've got right now, I promise you. It's just frustrating because I see Alex Spence do it in practice. He's been awesome since the Syracuse game. He comes out and everything is the same, everyone gets the same kick. I'm just asking him to make the layups. If we can just make some layups, maybe we can grow from there. Right there today, Alex is still out in front but we still have practice today, tomorrow and Thursday. I'll watch them in warmups. It'll be the most-watched warmups in history. I have no idea who will run out there first. If we played today it would be Alex. He would be the guy today. At some point we have to get the performance on game day."
Q: Because of the different mentality kickers have sometimes, do you handle some things differently with them?
Swinney: "Yes. Kickers are not guys who played linebacker in high school. They're usually a little different. You have to figure out how to communicate with them. At some point, though, you have to get the job done."
Q: Is Spence just rushing too much in games?
Swinney: "Just some technical things and just the moment, just being a young guy in pressure situations. He has the ability. You can't get distracted on the outcome. We went through this with Chandler Catanzaro. Eventually he grew his confidence. Hopefully the same thing will happen with Alex. When you put drives together and get down to the 20 and can't come away with points, that's tough. You have to convert if you're going to be a great red zone team. It's deflating to your offense and gives the other team momentum. You need to be able to count on those."
Q: How confident are you that Kelly can be as effective with his legs as he was before the ankle injury?
Swinney: "We'll find out. He was much better yesterday and is getting better everyday. We'll just go play the game."
Q: Can you describe the level of remorse that Tanner Muse showed after he was rung up for a personal foul at Syracuse?
Swinney: "That was unacceptable and will absolutely not be tolerated here. I sat him for the rest of the half. It was costly. They went on to get a field goal after that. Just disappointing. That's not who he is. He got caught up in the moment and lost his mind. That's not the way we do things here. As a result he didn't play very well either. Someone else caused the fumble actually. Let's celebrate the right way. he responded afterwards the way I had hoped he would. He knows he hurt the team. He put everyone in a bad situation ... the kickoff team, the kicker, the offense, defense. He showed immaturity in that moment. We need to keep our composure. Celebrating is fine but let's do it the right way."
Q: It's been about six years since you've lost back-to-back games. Talk about how your program has responded over the last half decade when you've been dealt a loss.
Swinney: "I'm proud of our consistency. We haven't had an undefeated team yet. Hopefully we can one day. That'd be great, but whether you're Tom Brady or whomever you get beat from time to time. That's not really the story. It's how you respond. You know sometimes you play well and get beat. That's life. But this team is good enough. We do have to play well, though. We're not good enough to go out there and stink it up.
"I'm anxious to see this week how this group responds. The makeup of this team is different. We only have six scholarship seniors. The majority of our team is freshmen and sophomores. You're always starting over. You're always reinstalling your core values and fighting for your culture. You're not entitled to win. You have to earn it. When you get beat, it's always an awesome opportunity to teach and develop our team. We may respond well, play great and still get beat. I personally have never judged our team by the scoreboard. We've won some games and played like crap. I just want to see us lay it on the line and play to our capability."
Q: Do you hate losing more than you love winning?
Swinney: "Yes. I try to win and lose with class but I hate to lose. You tend to remember those more. That's the sad part. We have a bunch of wins, but somehow there are some losses I can't shake. When you are a competitor, you do that. Also, we're not used to losing and I hope we never get used to it around here. The fun is in the winning, though. Now, we haven't had a lot of fun around here the last couple of weeks."
Q: Talk about C.J. Fuller and what his role is now.
Swinney: "He's our most complete back. You have to take advantage of your opportunities and he didn't do that a couple of times. He's a critical guy to what we do. I have no doubt he'll be impactful for us, but Feaster and Etienne have separated a little. We love C.J. He is definitely the most complete guy. He's been here four years now. He's tough. He's an outstanding zone runner and has excellent hands. It's no big secret that we need to improve in pass protection and he's excellent there. Our line has given up 4.5 sacks and gets all the blame. The QB has taken five sacks and then we've had our backs and receivers give up sacks. We've got to get better there. Some of it is knowledge, some of it is technique."
Q: What losses still stick with you?
Swinney: "How much time we got? I can go way, way back. Losing the national championship game was tough. Losing at Auburn when I was at Alabama in 1997 was tough. We had the game won. We had led the whole game. They kicked a 50-yarder with two seconds left to beat us. I've had a couple at Florida State. We lost to Auburn in 2010. I can go on and on and on. There were some close ones and butt-whippings, too."
Q: You've given Paul Johnson some of his lowest rushing totals. What's been your method to that?
Swinney: "Great players. We've had a bunch of them who have bought into the scheme and what it takes. It's not an easy defense to play. There's a different discipline that it takes to play Georgia Tech. Brent Venables has done an awesome job. At the end of the day it comes down to our players and they've been able to win some matchups."
Q: You talk about your team responding well over the open date. What kind of indicators have you seen?
Swinney: "Just being with them everyday, the senior leadership meetings we've had, some tough coaching we've had. How they've practiced is a big indicator, how they've flushed the loss ... a lot of things. They've responded well."
Q: Did you address the locker room thing (viral video) with your team?
Swinney: "Oh yes. We had a chance to address that. Stupid. First of all it was an old video. You had a couple of walk-ons in there with too much time on their hands. Sometimes young people do stupid things. You have gloves laying around, sometimes people start boxing. Someone had a video of it and put it out. It was brought to my attention. It was a couple of guys being goofy.
"You know, you buy a house, go to school, get a job, get married and you finally because of your name and credibility have a bank who loans you money. You just bring them $30,000 and get a $300,000 home. You're excited, move in your home and get furniture and you're excited to get to your new home. Are you going to push the furniture out of the way and invite boys over there to wrestle? We're not six. It's not a frat house. This ain't kindergarten.
"I don't think you'll have any more problems with that. And it was a bad boxing match, too. Just stupid."
Q: Do you think some of the public following of it was intensified because you had just lost to Syracuse?
Swinney: "I think anything associated with Clemson will be news. Whomever had it decided to put it out. I guess it was the most viral opportunity. I don't know when the video was shot, but it was old.
"There wasn't anybody down there in the locker room having any boxing matches last week, I promise you."
Q: Any decision yet on Garrett Williams?
Swinney: "Garrett and I met yesterday. Right now - and it's what he wants to do - we're going to try to redshirt him and see if we can get this year back. It's really a win-win. I've left it up to him at this point. He could come back and help us, but it's a win to know we'll have him two years from now. He can catch up with football development. I love Garrett, man. He's as tough as they come. He wants to get his masters, too. He's also got aspirations of playing on the next level and I think he will have a chance to do that. So that's where we are today. If we have a disaster, we may want to revisit that."
THE WEST ZONE message board | SHOP NOW: DEALS on CLEMSON apparel