Swinney previews Ohio State, discusses bowl prep at Tuesday presser
THE WEST ZONE message board | SHOP NOW: DEALS on CLEMSON apparel
CLEMSON –- Clemson head coach Dabo Swinney addressed members of the media Tuesday, this time to talk about his team's on-campus bowl workouts, Ohio State and other topics of interest. The following is an edited transcript of Tuesday's presser.
Opening statements: "Excited to get back at it. The players got a much-deserved break all last week and coaches kind of got back in here Sunday as far as us getting back together as a group. Everyone got a lot of work done in recruiting on the road. We got back on the field and in meeting rooms yesterday. It was just great to see everyone together. I'm very proud of this team and the accomplishments they've had. We're where we wanted to be. To win the conference in back to back years, which is difficult to do, was special.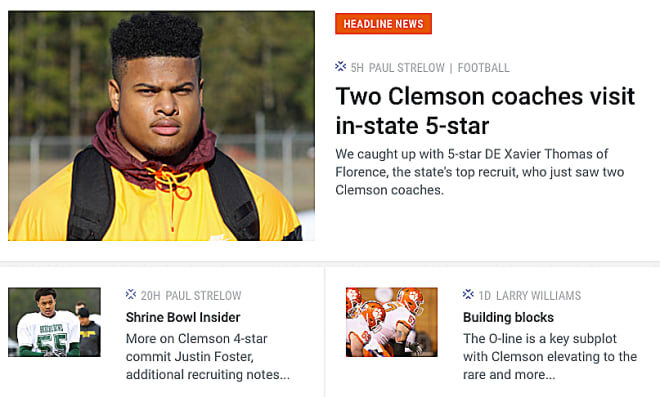 "Our guys continue to excel and manage expectations. We wanted to be in the final four and that's where we are. We have a shot to get back to the championship. We have four great teams. You don't get in this position unless you are a great team. These are four great teams, complete teams. You have to play well to win these games. You won't trick anybody or sneak up on anybody.
"Ohio State is a great team. They're 11-1. Coach Urban Meyer, I think he's the winningest coach ever percentage-wise. He's up there. I have drawn the short stick once again. It's a well-coached team. I have a lot of respect for him. We spend a week together every year. I love his wife. They're good people. He's done very well everywhere he has been. He just wins. He's got a great staff. They are just a complete team, a complete program. We're excited to go compete against them.
"Offensively they are a run-first offense. They are fourth in the nation in rushing. They know what they're doing. They're great up front. They have an All-American at center. They're all highly recruited. They've got a great back, an excellent tight end, excellent wideouts, this No. 4 is special. He's got over 1,500 yards and 15 touchdowns. He's everywhere. They use him a lot like we used Sammy Watkins. He's got explosiveness. They'll put him in the backfield more than we put Sammy in the backfield. He's a dynamic player.
"Their quarterback, J.T. Barrett, he's great. He's the second-leading rusher on the team. He's just a guy who can beat you in a lot of ways. All the zone-reads, powers, counters, speed-sweep stuff, jets, they've got it. They've got all the play action to come off of it, too. They're averaging 42 points a game.
"Defensively they are fourth in the country in total defense. They're deep up front. They play a lot of guys on their defensive line. They're three-deep across the board. They do excellent in rotating those guys. They're really good at linebacker. They're fast. We've recruited several of them. It'll be as good a secondary as we have seen. They're excellent at corner and have great depth. No. 24 back there at safety is big-time, big-time special. He is as good a player as I've seen on film on the back end this year. They rotate and their backups look just like their starters.
"Special teams I thought we might have a chance, then we're at the awards show and there is their punter. It's a great group. They've got great return men. They're a complete team just as you would expect when you get into this situation. We're excited about playing them. We have to play well. Every play can impact the game. You can't go out there and stumble around and win.
"We have a lot to do. We love this time of year. We've got time to get ready. We're focused on the fundamentals and basics of what we do. We will also take time to develop some guys we will play more in the spring. We want to shorten their learning curve and build a foundation for them. It's a critical time for a lot of areas. It's fun, too, because nobody is here."
Q: What's Scott Pagano's status, Trevion Thompson's and Richard Yeargin's?
Swinney: "He's back. Scott is back. Trevion is out. He has a fracture in his wrist. He had surgery and they put the pin in there. He's in a cast now. He won't be back full speed until the second half of spring practice. I'm disappointed for him. That young man has made a ton of progress. He's already been a good player for us. You'll look up in a couple of years and he'll be playing on Sunday. You'll be like, 'Where did this guy come from?' Sorta like Jaron Brown. He's going to be an excellent player for us. Richard Yeargin is back."
Q: Anything you said to Deshaun Watson to console him after the Heisman ceremony?
Swinney: "No. It is what it is. I think he's the best player hands down, but that doesn't take anything away from those other guys. They were all deserving to be there. Deshaun is an unbelievable player. He just wants to win. That's the thing about what we're in right now. All that stuff, everybody gets to vote. A lot of people vote before the season is over. That's so subjective but the trophy that they give you after the last game, there ain't no vote on that one. Nobody has a say on that one except the guys on the field. Mike Williams wasn't even a finalist for a the Biletnikoff Award. You've got to be kidding me. It's all opinionated. He'll be the first one drafted, I know that. The trophy Deshaun wants more is the national title, that team trophy you hold up when the last second ticks off from the last game."
Q: What's the mindset of your team since they've already experienced a berth in the playoff?
Swinney: "Same as it's been all year. It's the next game, a championship game. Every play matters. We have had that mentality all year. To get to this point over here you have to take care of what you're doing now. We knew we could win the ACC, but we had to win at Wake Forest. We don't win at Wake, we're not playing in the title game. We have to lock in and zoom in and focus. Be great where your feet are. If you're in the meeting room today, be great there. If you're in the dining room, fuel your body the right way and be great there. Our guys have respect for the process that we have.
Q: Any advantage since you're back at the same site?
Swinney: "No. They played there, too. They won there. I guess they have the advantage. The only thing is, I guess everybody on this team except true freshmen, they were out there. It doesn't matter. When the ball gets put down, it's about playing football. It doesn't matter if you're in Mexico or Arizona. I don't really remember being out there. I can't even remember what our hotel looked like. I know what the room looked like. But the rest, I have no clue. It was such a blur getting out there. It was like an away game, like a quick business trip. I'm excited to go check it out. I played in the Fiesta Bowl in 1990, so I do remember the area a little."
Q: Any update on Jake Fruhmorgen? And do you expect him to come back to the team?
Swinney: "No update. I don't expect anything right now. There are no expectations."
Q: What have you learned from Meyer over the years?
Swinney: "Surround yourself with great people, go recruit, have a great recruiting staff. He's done that everywhere he's been. Have an identity you believe in. We've talked about a lot of things when we've had moments to sit and visit. He has been open and transparent. At the end of the day you have to be who you are and do things you believe in."
Q: Can you take anything from the Orange Bowl win over them a few years ago?
Swinney: "For us at that point it was another step. It was a BCS bowl win. It was a big bowl win. We had gotten our butts kicked in the Orange Bowl a couple of years earlier. We played well. We didn't play perfect. They made mistakes and we made some mistakes. The best players have to play well. It's what I always tell our guys. If LeBron James shows up and doesn't play well, well, they're probably getting beat. You have to win your share of games like that in order to become an elite program and to grow your brand. When we beat Ohio State, that helped our brand shine more. It was a great moment. It made us 11-2 that year. That was a big deal for us, for sure."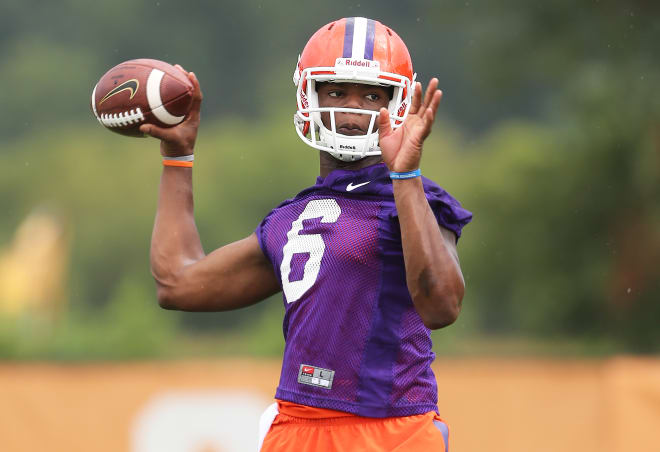 Q: How much stock do you put into big-game experience?

Swinney: "It's tremendous. That's why you don't see a lot of rookies making All-Pro in the NFL. Rarely you might see it. We don't see a lot of freshmen making All-American. It's rare for a reason because everybody needs experience. As adults we all live our lives today based on past experience. We're always going to be in similar circumstances. When you have been through things, it helps you to deal with them when they happen again. I think it's very important. When the Patriots line up, Tom Brady is there, it's a big game, it matters. It matters because he's got experience. It doesn't mean they win, but it matters."
Q: Coach Meyer has been open about anxiety and depression he dealt with several years ago. Did he share any of that with you? Have you dealt with that?
Swinney: "We did talk about that. I've not dealt with that in any regard. I struggle like any other human being. I hate to lose and we have disappointment and setbacks, but I think I've worked really hard to have a good balance in my life. I think he got to a point where he got defined by the scoreboard. Hopefully I won't ever be that way. I don't let other people's opinions affect me. I control what reality is. We win, I celebrate and then we move on, but stay humble through the process. If we lose, I try not to get too low. I get back at it. I have great peace, a strong faith and that has been my anchor in everything that I do. I have a great family, a great wife. Coach Meyer, somewhere along the line he lost his balance a little bit and these are things he talked about. I think everyone has been appreciative that he's been open about that. It comes with the territory sometimes. For me personally, again, I can't really relate to that."
Q: Do you have your bowl practice plan in place?
Swinney: "We will practice here through the 21st. Everyone will be back here on the morning of the 26th for practice and then leave for Arizona. We want to get the majority of practice done here. If you're trying to figure out what you're going to do on third down at the bowl site, that's not a good situation. We try to be efficient and decisive and finalize the plan here before we get a break for Christmas. During game week it's about details and it's about polishing."
Q: Talk about some underclassmen last year who benefited from more reps in December.
Swinney: "A bunch of them have. C.J. Fuller last year got a lot of work during bowl prep. Some of those young offensive linemen got a lot of work during bowl prep, a guy like Zach Giella. He made good progress. Some of those safeties like Van Smith got a ton of work last winter. They get confidence from that. It's across the board."
Q: Talk about a guy like Zerrick Cooper and what this month could mean for him, given your quarterback situation next spring.
Swinney: "Absolutely. It's huge for him. He has had very little work within our system. You get dialed in and play each week, it's tough to get them reps. He has spent a lot of time in the virtual reality lab. He gets individual work this time of year. He gets work in a team setting now, too. He's handling blitzes, making reads and evaluating protections. It's important for him to get extra work in this bowl season."
Q: Can you sense a huge excitement level for Mike Williams and Deon Cain who could not play this time last year?
Swinney: "I don't know that I saw anything different. Mike has just had a great appreciation for every game, every week. Nothing is different now. I'm sure in the back of their minds they're excited to have an opportunity they missed out on last year."
Q: Is this the best you've been at defensive tackle since you've been there?
Swinney: "I don't know. I don't know that we've ever had anybody better than Grady Jarrett. This is a good group. I go back to Jarvis Jenkins and Brandon Thompson. I mean we've had some dudes roll through here inside. This group is as good and can hold their own versus anybody. We have a true freshman in there in Dexter Lawrence. It's scary to think what he can be by the time he leaves here. How about a guy like Nyles Pinckney. He's gotten scout team player of the week four or five times now. He's going to be a heck of a player for us. He'll be more prepared because of his power hour experience. We'll have a strong group back. Most likely Christian Wilkins will end up back inside."
Q: Have you noticed a trend with your defense not sustaining some intensity later in the game?
Swinney: "Well Pitt we weren't really good for four quarters. Virginia Tech, they've got good players. We had some busts and mental errors. Their quarterback ran through us two or three times. That's why they were in that game. We'd love to line up and kill everybody for four quarters but other teams have good players. That's why Virginia Tech won its division. I think we're ninth in the country on defense. We've been pretty good."
Q: How important it is for your underclassmen quarterbacks to work with Deshaun this time of year?
Swinney: "It's great that Deshaun is here to work with them. He takes a lot of pride in mentoring these guys. He'll go out of his way to help them. It's the example that he sets everyday. They come to work everyday and they're sitting in those meetings with Deshaun. He prepares like a coach. He takes notes like a coach. It's unbelievable the example that he sets. It's how he handles himself off the field. He's early, he stays late. You don't have to ever say a word to him. That's the biggest impact he will have. Because they're paying attention, trust me. They pay attention to those veteran players. That's why we're so hard on those veteran players. It's important they understand the impact they have on those underclassmen.
"It's big for a guy like Zerrick to watch how Deshaun handles the media, how he handles success, failure, how he handles coaching. Zerrick is doing well on and off the field, including academically. That's in part because of the standard in that room. Deshaun will challenge those guys."
Q: Does it help you prepare better knowing way ahead of time that Deshaun is moving on?
Swinney: "We've known since Deshaun got here he would be here for three years. We knew how special he was. It was easy to recognize that quickly. He was just on another level. That's been a part of our recruiting plan. That's why we've got to sign two quarterbacks this year. We try to operate on a number of five quarterback players. We'll sit here at three scholarship quarterbacks as soon as the bowl game is over. We'll have another signee come in over the summer and a midyear come in around January, so that'll get us to five on scholarship. We're always planning for what's next."
Q; How has your recruiting pitch changed over the years?
Swinney: "We're selling results. That's the biggest change. Back when I started, we were selling hope. You were trying to get people to believe in the vision, the plan that you had. Eight years to see where we are now, it's special. Three out of the last four years we have been in either a BCS bowl or the College Football Playoff. Eight years ago sitting in Tajh's home trying to recruit my first quarterback, yes, things have changed. It's easier to get people to save a recruiting visit for Clemson. Our brand has changed. We'd never heard of K'Von Wallace. Meyer was recruiting in D.C. And he turned the plane around and needed to see this kid who blew up the latter part of his senior year. K'Von took a midweek visit here. You get guys like Scott Pagano who want to come visit, guys who reach out to you from Hawaii. That's the biggest change."
Q: Talk about Michael Hill, the highly recruited defensive tackle from Pendleton who ended up at Ohio State.
Swinney: "It was crazy. Urban and I talked about that. He didn't know where Pendleton was. We go to Connecticut to get Christian Wilkins. They got Michael Hill. Both are good players. Christian came down to Ohio State as well. I think Michael is playing a lot more this year for them. He's tough, thick, gobbles you up inside. He's a big, strong kid who was a great player in high school. He just didn't have a lot of interest in us. He felt like Ohio State was the right fit for him. Happy for him."
THE WEST ZONE message board | SHOP NOW: DEALS on CLEMSON apparel