Thats more like it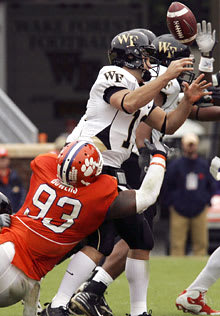 CLEMSON, S.C. - This is what Dabo Swinney envisioned all along.
Swinney kept saying Clemson was close to breaking out, but fans might've found that hard to envision after three losses in five games.
Saturday's 38-3 trouncing of Wake Forest lent plenty of validation to Swinney's convictions.
"I just kept saying: 'If you play like you practice, you'll overwhelm these guys,'" Swinney said.
The Tigers did precisely that on both sides of the ball, finding their groove on offense and stifling the Demon Deacons defensively.
"This is the Clemson team that should have been playing all year," said senior tailback C.J. Spiller.
This was the perfect remedy for the long two weeks that followed a 24-21 loss at Maryland.
"It was great for our team, great for our offense and defense," said senior offensive lineman Thomas Austin. "Two weeks off, all you hear is negativity all week. The only thing to make that better is to go out there and play hard and get a win."
An offense that couldn't produce given repeated opportunities in the loss at Maryland moved the ball effortlessly two weeks later.
The passes were crisp, and the receivers caught them. The holes were often plentiful. The red zone was not the dread zone.
And no one was questioning the play-calling.
"It's all about blocking and tackling and throwing and catching," said Swinney, whose team totaled 382 yards of offense while showing off nice balance (195 rushing, 187 passing).
"It's not about the plays. It's the players."
The Tigers responded with their backs against the wall, dismantling the Demon Deacons to avoid falling into a huge hole.
Clemson improved to 3-3 and 2-2 in the ACC, and no one on the team anticipated those records before the season. But those marks feel pretty darn good after back-to-back losses to TCU and Maryland.
"We had a lot of fire burning down inside us," said Spiller, who rushed for 106 yards - including a 66-yard touchdown run in the second quarter that extended his streak of plays of 60 yards or more in each game this season.
"We knew coming into this game that if we got this win, we could be right back where we wanted to be - controlling our own destiny," Spiller said. "I challenged the guys last night on it, and guys came out and responded well."
Having produced 274 yards in College Park, the Tigers fell 3 yards shy of that total in the first half Saturday. Having scored two touchdowns in the previous 13 quarters, they scored four touchdowns before entering the locker room up 31-3.
Quarterback Kyle Parker was efficient, throwing for 132 yards on a 10-of-17 clip with a touchdown while adding another score via the ground on a 3-yard run in the second quarter. Parker rushed for 31 yards.
The Tigers went 5-for-5 inside Wake Forest's 20, with the four touchdowns and a field goal.
"After the loss to Maryland, we never lost confidence or listened to the negativity," said senior tight end Michael Palmer, who had four catches for 49 yards - including a 1-yard scoring catch on the Tigers' first drive.
The offensive pyrotechnics overshadowed a splendid showing from the defense. The Demon Deacons (4-3, 2-2) entered averaging 426 yards per game and had averaged 467 in their previous three games against Maryland, N.C. State and Boston College.
Wake finished with 178 yards on 70 plays and mustered 155 through three quarters. Fifth-year senior quarterback Riley Skinner threw for 82 yards on 11-of-24 passing with two interceptions after amassing 1,364 yards and 12 touchdowns on a 94-of-133 clip in his previous four games.
The catalyst for the Tigers was an overwhelming effort up front. Led by an electric day from sophomore end Da'Quan Bowers, Clemson's defensive line harassed and antagonized Skinner all afternoon.
Said Skinner: "They brought a bunch of blitzes and once their offense scored a couple of touchdowns and we got down and we had to pass the ball, they kind of started pinning their ears back and coming after us."
The Tigers racked up five sacks, pushing their season total to 17 through six games - four more than they collected last year in 13 games.
Bowers, who shaved off his long dreadlocks earlier in the week, said Clemson's defense applied the scissors to Wake Forest's offense with some productive film study.
"We basically had everything broken down to a tip of looking at their heels to tell if they were going to pass or run," said Bowers, who had three tackles for loss. "We were actually calling the plays that (Skinner) was going to run, so he had no choice but to check down.
"We could tell exactly what they were running by the way the line was lined up and the things that he was doing. … He was getting frustrated. I could tell in his eyes. I kind of said something to him, and he just looked at me and shook his head. So I knew something was wrong with him."
Deacons center Russell Nenon walked away impressed with Clemson's defensive front.
"You take a week off against a team like Clemson and you see the athletes like Da'Quan Bowers and Ricky Sapp -- they're freaks out there."
Wake Forest, which defeated Clemson 12-7 last year in Tommy Bowden's last game as the Tigers' coach, suffered the second-worst loss in Jim Grobe's 105 games as the Deacons' coach.
Previously, his second-worst defeat was a 44-10 loss in Clemson two years ago.
"The last two trips down here we've really been worn out," said Grobe, whose program has not won in Death Valley since 1998.
Swinney spent the past two weeks preaching better first-down production on offense. On 13 first-down plays before halftime, the Tigers totaled 206 yards for an average of 15.8 yards per play.
On its first six possessions, Clemson faced third down on just three occasions. By that time, the Tigers were up 24-3 with 3:37 left in the first half after the 66-yard run by Spiller on the first play of the sixth possession.
On the third possession, Clemson collected first downs on four consecutive plays that totaled 55 yards.
"We didn't all of a sudden just wake up and become geniuses as coaches today," Swinney said. "Far from it."
The Tigers got things started quickly after a failed sky kick by Wake Forest to open the game. Terrance Ashe fair caught it, setting Clemson up at the Deacons' 46-yard line.
"It was supposed to be a sky kick but he got under it too much," Grobe said of his kicker. "It looked to be a surprise on-side, but it surprised all of us."
Parker passed four times for 43 yards on the drive, including a 1-yard touchdown to Palmer on play-action.
The Tigers were up 17-0 early in the second quarter after Parker's scoring run on the option capped a four-play, 66-yard drive.
The defense came up big in two key first-half sequences. The Deacons drove to Clemson's 25 on their second possession, but DeAndre McDaniel picked off Skinner down the middle and returned it 26 yards to snuff out the threat.
Down 17-0 midway through the second quarter, Wake drove from its 44 to Clemson's 1. The Tigers held on second and third down, forcing a field goal.
"That's the best I've seen the defense play since I've been here," Spiller said.
And it's the best the offense has played this season.
Swinney could say he saw it all coming.
"You come in here and you pull your hair out, because you're so close," he said. "It's the little things."
***
To chat with other Clemson fans about this article please visit The West Zone message board.