Tigerillustrated.coms Mail Call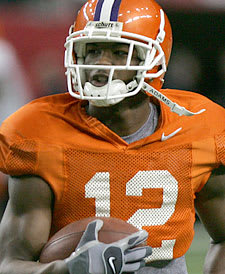 CLEMSON - Tigerillustrated.com, online since 1999, is the Mecca of Clemson football and recruiting coverage, and is an officially licensed site of the Rivals.com network.
Mail Call, a weekly feature on Tigerillustrated.com since 2000, is a segment specifically for subscribers only who send in questions and comments to publisher Cris Ard. Ard has covered Clemson football since 1993.
Users who would like to have their questions and or comments addressed in
Mail Call
, please send all correspondence
HERE
.
Tigerillustrated.com's Mail Call
Barry B. – Lyman, SC: What is your opinion on why Clemson has not offered anyone from Byrnes since Willy Korn, Buster Hunter, Xavier Dye and Chad Diehl until this year? This is one of the top high school programs in the nation and the top program in the state. Clemson had a pipeline started but seems to have lost it. The latest player that we haven't offered is Nick Jones, who South Carolina offered already. FSU got Dawkins and Bright, two players who some say weren't an upgrade but they were good enough to sign with the Noles, and we didn't offer either. That was two players that could have kept the pipeline open.
I've seen a lot of football players over the years and Nick Jones will be a great one in college. Will Clemson even offer? We all know that the Tigers would love to have Lattimore, Willis and Miller, but Jones, Jazz King and probably a couple of other Rebels should be on the list. The Tigers should have a stronghold on Byrnes, but it appears to me and others that the coaches don't have a clue as to how to harvest the crop that comes out of Duncan each year. To keep a pipeline flowing you may have to take a chance or two on occasion. I think we should work on it. What do you think?
ARD: Barry, thanks for the note. I respect your passion for your program, and I understand your angle, but I emphatically disagree.
First and foremost, any coaching staff with an actual plan in recruiting that deviates from that by responding and reacting to what other coaching staffs do, won't go very far. Good staffs will instead move with their judgment and evaluations before they jump on a kid just because he picked up an offer from another program. Given the close proximity of the school to Clemson and the numerous trips that Dawkins and Bright took to Clemson, their coaches got an extensive look at both, and scouted both heavily. They were sure they did not want to move on either. Bright is a good football player on the prep level, but the reality is that he's not one of Clemson's top four safeties. In other words, he wouldn't be a depth guy or a two-deep player at Clemson. And neither would Dawkins, in their judgment. Did they make the right call on both? We'll find out in about three to four years.
As for South Carolina offering Nick Jones, again, Clemson absolutely won't respond and or react to anything South Carolina does in recruiting. I don't say that flippantly. Just being brutally honest. Clemson isn't trying to get to where South Carolina is as a football program. I think any college football observer would give you that much. Both programs go after the same players in some instances. But my point is that the fact that South Carolina steps out and offers a kid won't ever spark Clemson to respond or react just because its arch-rival extended an offer.
I will also tell you that there is never any discussion among coaching staffs of sustaining a pipeline to a given high school. Coaches are concerned with talent, not reaching on a kid beyond their offer board just because he comes from a great prep program or because by offering that prospect and taking him means it has sustained a pipeline.
Clemson does want Lattimore, but he remains an SEC lean. I'm not sure Clemson could have done anything differently there, given the fact that they were actually the first school to step out and offer the kid.
Secondly, they're not recruiting Corey Miller nearly as hard as they're on Brandon Willis. I'm not sure how much longer Clemson will recruit Miller. Willis is in their evaluation the superior of the two. Furthermore, Clemson has sent coaches by Byrnes twice this spring, including last Saturday where five assistants were at the school scouting a practice - Jeff Scott, Dan Brooks, Dan Pearman, Andre' Powell and Chris Rumph. They're aware of every kid on that roster. And they're allowed two visits in the spring, and used both up on Byrnes, so they're evaluating that program as closely as ever. It's always a priority stop.
I think it should be noted that when you have a recruiting footprint of South Carolina, North Carolina, Georgia, Florida and the remainder of the Southeast, you have to scour that extensively to fill your needs. If you have to go out of state to get a player higher on your board and you're able to land him, then you're doing your program, your fans and alumni an injustice by doing otherwise, and reaching on a kid who's a good player, but simply below a lot of other highly regarded prospects on your board.
The Palmetto State will annually produce over 40 players that will sign with Division I-A programs, though almost every year Clemson will end up actually offering less than half of that total. The state hasn't ever been big enough to be self sufficient for one, much less both in-state programs. You'll have to go out of state and sign national kids in order for your program to be successful. When Clemson was rolling in the 1980's, Danny Ford did that and had many kids on his rosters from both North Carolina and Georgia.
Iain R. – New York, NY: Thanks again for the great content. I'm loving the podcast addition as well. My question is about Da'Quan Bowers. Based on his Gator Bowl performance, Steele's pressure defense and the strength/mental progression that he has made this off-season, what kind of season do you think he might have? Does he have the tools necessary THIS SEASON to become unstoppable in a one on one versus an o-tackle situation and require frequent double teams?
ARD: Thanks for the kudos. Da'Quan has reached a stage where opposing offensive coordinators have to game plan around him. I think when you're reached that point, you've earned a lot of respect, obviously. His pass-rush move is improved, he carries 275 pounds well, he's explosive, he's got long arms, he's very strong and uses his hands well. I still think it's going to be difficult for Clemson to keep him on campus for four years.
I don't ever think a player is unstoppable. He's human and he'll self-destruct or make mistakes sooner or later. And there are always things you can do to scheme around a situation and contain a player to an extent. A defensive end isn't going to pile up 12 sacks and 10 pressures in a game on this level. He won't be disruptive on every play on this level, because opposing coordinators will scheme away from him. But I do think he's a player who has the tools to put together a big year, reach double digit sack totals for the season, and put himself in contention for all-conference and All-American type honors.
Brian C. – New Bern, NC: Not sure if you have touched on this but why are the football camps so early this year? I have read some prospects will not be able to make it because they are still in school?
ARD: They're only a week ahead of schedule in comparison to recent years. Typically Clemson's camps and passing tournaments end between June 19-22, somewhere in that timeframe, whereas this summer everything will be wrapped up for the most part around the 13th of June.
July is a very busy time for staffers. Most are still on vacation throughout the first week of July, then you immediately welcome in true freshmen who are in for the second session of summer school and summer voluntary workouts.
Coaches are in meetings, game-planning, you've got the Dabo Swinney hideaway session, which will last for about a week, the Dabo Swinney media golf outing, ACC media days, and then you're essentially ready for August camp.
The NCAA also mandates that a school's strength facility is shut down at least a week in the summer, and Clemson usually closes its strength room down in that final week of June, when virtually most of the staff and team are off campus.
Jay B. – Charleston, SC: I seem to remember talk about Dabo making changes to our uniforms. Has anything more been mentioned about this?
ARD: We haven't heard anything on that as of late. I'll ask around over the next week or so.
K. Scruggs – Lyman, SC: What is your feeling regarding the quarterback battle? I can't help but believe if Korn is healthy, he wins it simply because the two are so similar and he has a year on Kyle Parker?
ARD: My feeling today is that unless Willy is able to make significant improvement in his mechanics over the summer, Kyle Parker will be your starting quarterback. Both are indeed similar in many ways. Both are athletic, both have outstanding improvisational skills, both can deliver the football on the run, both can make plays, but Kyle was clearly the more consistent performer of the two in the spring. Also his arm strength is obviously superior. Willy has June, July and 29 practices in August to make improvement, and he will. I'm merely saying if they played Middle Tennessee tomorrow, the nod would go to Parker, given his production in the spring.
Jeff – Santa Monica, Calif:: – Great job with the Web site, as always. I really enjoy the mail call feature.
It seems as though Butch Davis is really hitting his stride at UNC with regard to recruiting. They managed an impressive haul last year. It also appears they are off to an impressive start this year with early interest from the region's top prospects. I certainly am not looking forward to playing them in 2010 when all the pieces will no doubt be in place for a legitimate ACC title run.
Could you talk about what makes Davis and his staff so successful at evaluation and recruiting, especially considering he has only assembled two classes there?
We all know what he was able to put together during his time at Miami, and it appears he is making similar progress in Chapel Hill.
ARD: Thanks for the kudos. We appreciate your frequenting the Web site and staying in touch all the way from California.
First and foremost, Butch has an excellent job. A lot of college coaches feel the UNC job is the third-best head coaching job in the ACC behind Florida State and Miami. It's an outstanding university, it's a great environment, there's a lot of history and tradition with their football, baseball and basketball programs, their athletics brand is one of the best in the country, and has a reach far outside of the Southeast and Mid Atlantic Region.
Last fall David Fox wrote an article on our national channel that delved into branding and which schools stood atop the heap. It was no surprise that UNC was right there in the forefront. Check out
this article
.
UNC also has the second-best football facilities in the ACC, behind Florida State. Their facilities initiative in the mid 1990's really helped elevate their recruiting. Mack Brown was there for the tidal wave, with the 1996 and '97 seasons, finishing 10-2 in 1996 and 11-1 in '97.
Secondly, Davis is a heck of a football coach, and he's an outstanding recruiter. A lot of South Florida prep coaches raved about him when he was in Miami because he was always so thorough.
When you look at a coach with the work ethic of a Butch Davis, a guy with the visibility that he has to begin with, then he's put in that situation in Chapel Hill, it's a pretty good combination. That doesn't mean that opposing staffs can't go into the Tarheel State and get a national kid or two, but given the fact that it's a state already with five Division I-A programs, and now with obvious stability in coaching staffs at UNC and NC State, it's going to be increasingly tougher for out-of-state staffs to go in there and get national kids. You'll always have to recruit a state like North Carolina if you're Clemson or South Carolina, because it's too talented and too close not to.
Moreover, add a guy like Ken Browning who has been an assistant coach at North Carolina for over 15 years, a guy who carries a lot of high school coaches in that state in his back pocket, and it's a great set-up for success there in recruiting.
***
To chat with other Clemson fans about this article please visit The West Zone message board.
GIVE TIGERILLUSTRATED.COM A TRY: Tigerillustrated.com is now offering a FREE seven-day trial. Try our content for seven days without paying a dime.
Click here
to subscribe!