Tigers take opener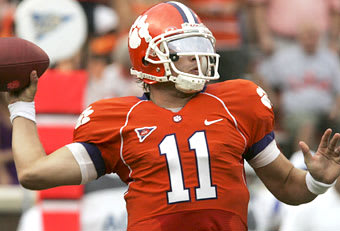 CLEMSON, S.C. -- Atop the list of Clemson's team goals is this:
"Win the opener."
Nothing is said about winning flawlessly, or with an abundance of style points.
There was plenty for Dabo Swinney to feel good about, and plenty for him to be concerned about as he looked back on Saturday's 37-14 win over Middle Tennessee.
The Tigers opened Swinney's first full season with some spectacular play on special teams and defense, but also with some flaws on both sides of the ball.
Swinney will take it, for sure. But he'll take it knowing Clemson needs to get better before it faces No. 15 Georgia Tech on Thursday night in Atlanta.
"Our number one goal was to win the opener, and that's what we got accomplished today," Swinney said. "So we can check that one off."
The offense didn't score its first touchdown until 2:55 remained in the first half, and it even handed the Blue Raiders a touchdown when backup quarterback Willy Korn fumbled away an attempted pass that was taken 68 yards the other way for a touchdown.
But special teams and defense had come through to give the offense some margin for error. C.J. Spiller returned the opening kickoff 96 yards for a touchdown; Jacoby Ford went 61 yards for a score on a punt return in the second quarter; and unproven kicker Richard Jackson nailed three field goals, including a 44-yarder.
Middle Tennessee totaled just 62 yards on 29 plays in the first half --- including minus-9 rushing yards - against an energetic, harassing defense.
That explains how the Tigers entered the locker room up comfortably, 30-7.
From there, the defense slacked off a bit and gave up some big plays. But the offense began moving the ball and overpowering the Blue Raiders up front.
Redshirt freshman quarterback Kyle Parker threw two touchdown passes and avoided a turnover in his college debut while throwing for 159 yards and running for 25.
Sophomore tailback Jamie Harper rushed for 75 yards on 15 carries, and redshirt freshman Andre Ellington added 72 on nine totes.
The defense's only real blemish was allowing a seven-play, 85-yard drive to open the second half. Middle Tennessee, coached by former Clemson assistant Rick Stockstill, totaled 299 yards on 81 plays.
"Anytime you get a victory, you've got to enjoy that because it's hard to get victories," said sophomore linebacker Brandon Maye, who was unofficially credited with a game-high 13 tackles. "We gave up a couple of plays, but we played our butts off."
Spiller opened the game with the electrifying kickoff return but played sparingly from there. Swinney said he missed some time thereafter while hyperventilating, and Spiller was done for good after suffering an injury while returning a punt in the second quarter.
Spiller said he suffered a hamstring injury. Swinney said he nicked his toe. Neither was worried about Spiller's availability for the big game at Georgia Tech. In fact, Spiller said he'd have returned in the second half had the game been close.
Spiller still finished with 171 all-purpose yards, including a 50-yard punt return early in the second quarter. He had four rushes for 12 yards.
"We've still got some things to correct, don't get me wrong," said Spiller, who became the first player in school history to return the opening kickoff for a score.
"We didn't play to the best of our ability, but it's always good to get the win. The main thing now is to enjoy this tonight, but - even tonight, we've got to focus on Georgia Tech, because that's going to be a tough game."
Parker, who fought off a challenge from Korn during August camp, overcame some early jitters - not to mention some gaffes from his teammates.
Receivers had drops on three of the Tigers' first four possessions, and all three came on third down. Xavier Dye had one on the first possession, and Jacoby Ford accounted for the other two.
Parker was 2-of-8 passing for 9 yards after one quarter. From there, he completed seven of 12 throws for 150 yards and two touchdowns - one a 43-yard toss to Ford late in the first half, and another a 33-yard strike to Marquan Jones with 9:04 left in the third.
"I felt good," Parker said. "I didn't really think I played a bad first quarter, just drops here and there and maybe one or two misreads. … I didn't really think we were struggling. We'd move the ball, and then we'd make a stupid mistake that got us in a bad situation.
"I think the plays were there. We left them there sometimes, and we didn't take them. To be a good offense, you've got to take those plays, and that's something we're going to get better at. We have some young skill guys, some young wide receivers."
The offensive line struggled to open holes early, and senior guard Thomas Austin attributed it to the funky things Middle Tennessee was doing defensively.
"We tried to run off the ball and hit somebody, and they were doing some slanting and angling and stuff," he said. "We knew they probably wouldn't play us man-up and head-up and stuff. I thought we adjusted well and started picking up some stuff."
The defense also had to adjust to quirkiness against four and five-reciever sets. Coordinator Kevin Steele exclusively used packages with five and six defensive backs, confining several linebackers (including veteran Kavell Conner) to the sidelines.
Steele's final assessment was a fitting appraisal of the entire night for the Tigers: encouraged, but nowhere close to happy.
Not with the trip to Atlanta looming.
"We lost our edge a little bit after halftime," Steele said of the defense. "I'm happy with the win, but there's a list of things I've got to clean up."
***
To chat with other Clemson fans about this article please visit The West Zone message board.