UNC evens series with 5-2 win over Clemson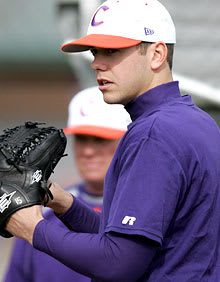 CHAPEL HILL, (N.C.) - Four bases-loaded walks in the third inning and a strong outing from starter Adam Warren propelled #2 North Carolina to a 5-2 victory over #19 Clemson in front of 4,100 fans at Boshamer Stadium on Saturday afternoon. The Tar Heels, who evened the series 1-1, improved to 9-2 overall and 1-1 in ACC play, while the Tigers dropped to 6-3 overall and 1-1 in the ACC.
Warren (2-0) pitched 7.0 innings, allowing three hits, two unearned runs, and two walks with eight strikeouts to earn the win. Colin Bates pitched 2.0 hitless and scoreless innings in relief to record his first career save.
Tiger starter Graham Stoneburner (0-2) suffered the loss, as he gave up four runs (three earned) on four hits in 2.1 innings pitched. Freshman relievers Will Lamb and Scott Weismann combined to pitch the final 5.2 innings, allowing just two hits and no runs.
The Tigers jumped out to a 1-0 lead in the first inning. Leadoff batter Brad Miller reached on a throwing error and went to second on a wild pitch. Three batters later, Wilson Boyd grounded a two-out single up the middle to score Miller.
In the bottom of the first inning, Levi Michael hit a one-out, infield single and stole second base. Two batters later, Kyle Seager lined a two-out single to right field to score Michael.
In the third inning, Michael led off with a double down the right-field line. Dustin Ackley then reached on a fielding error by Miller at shortstop and Seager loaded the bases with no outs on a line-drive single to right field.
Later in the inning, Mark Fleury, Ryan Graepel, and Mike Cavasinni all walked with the bases loaded. Two batters later, Ben Bunting drew a two-out walk to score Fleury. The Tigers entered the game having allowed just 16 walks all season, but four Tar Heels scored on walks in the frame.
The Tigers cut into the North Carolina lead in the sixth inning. Miller reached on an error to lead off the frame for the second time in the game. After Mike Freeman walked and Ben Paulsen's lineout to left-center moved Miller to third, Boyd's groundout advanced Freeman to second, as Miller held at third. Miller then scored on Warren's balk, cutting the Tar Heel lead to 5-2.
In the ninth inning, Paulsen reached on North Carolina's third error of the day. Boyd followed with a deep drive to right-center. But right-fielder Garrett Gore reached over the fence and robbed Boyd of a potential two-run homer. Gore then threw to first base to double off Paulsen. Kyle Parker then grounded out to end the game.
The Tar Heels, who outhit Clemson 6-3, were led by Michael, who went 3-for-5. Seager added two hits and an RBI. Boyd had Clemson's lone RBI.
Clemson and North Carolina will play game-three of the three-game series at Boshamer Stadium on Sunday at 1:00 PM.
***
To chat with other Clemson fans about this article please visit The West Zone message board.