UPDATE: NCAA Lifts Penalty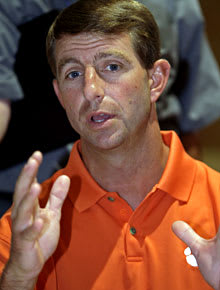 5:25 PM UPDATE: The Clemson University Athletic Department was informed late this afternoon that it will not have its number of preseason football practices reduced as the result of wearing a non-compliant uniform for its first two days of football practice (August 6-7).
Earlier today the school announced it would not have a second practice on Monday and Friday this week as the result of a ruling by the NCAA that it wore pads during its first two days of practice.
"The NCAA gave further review to this situation and informed us this afternoon that we can have the full compliment of practices during the preseason," Clemson Athletic Director Terry Don Phillips said Monday afternoon. "We are pleased with this decision."
************************************
6:16 PM UPDATE: Clemson will practice this evening from 7:30 PM to 9:30 PM as a result of the NCAA late afternoon ruling and will return to its original preseason practice schedule.
"We appreciate the NCAA taking a second look at our situation," said Clemson Head coach Dabo Swinney. "We are very pleased with the decision and the timing of it. We have enough time to change our plans and have a full tempo practice this evening that will be a good preparation for our first scrimmage on Tuesday."
************************************
CLEMSON, S.C. -- The Clemson football team has been forced to trim two of its allotted 29 preseason practices, head coach Dabo Swinney said Monday. The Tigers have been cited by the Atlantic Coast Conference for wearing improper attire in practices, according to Swinney.
"We've got what I'm calling Girdle Gate going on around here," Swinney said. "The pants that were under our shorts - and just so you know we've always worn that around here - for whatever reason it has become an issue this year. On the first two days of practice the ACC ruled that this was improper attire… to have that girdle on with the little built-in padding.
"Obviously we didn't know that. Certainly if you're robbing a bank, you wouldn't invite the media to come cover it."
Clemson's first practice, back on August 4, was open to the media. Its morning practice today also was open to the media. The A.M. session was supposed to be the first of two workouts on the day.
Swinney said his team will not practice tonight, as a result of the ruling, and won't begin the first "full blown" two-a-day session until Wednesday.
The head coach seemed baffled at the ruling, as he addressed members of the media just inside of the Jervey practice facility shortly after 12 p.m. Monday.
"Obviously there was no intent to break a rule, but somebody turned us in on that and the ACC said it was indeed improper attire," he said. "I think you can turn on the television or get on the Internet and find a lot of high profile universities that have the same exact attire that we had on the first two practices. But we're not going to argue this ruling."
Swinney said he first learned of the ACC looking into the matter last week, when an equipment staffer brought it to his attention following a conversation with Stephanie Ellison, Clemson's Director of Compliance.
"He came up to me on Thursday and said they had called over and said someone had called them to say we were wearing illegal attire," Swinney noted. "I said, 'What?' We were wearing the same thing we had been wearing for years. All Stephanie could do was react to it.
"There's a lot of other schools in other conferences who have worn them. I don't know what their penalties are, but ours was two less practices. We'll make good use of the time."
Swinney said he was appreciative of the NCAA's involvement in the matter, because the ACC had initially wanted to force the Tigers to restart its acclimation period.
"I was like dad-gum, we can't get anything done in shorts. We've got to get to work with our pads on," said the head coach. "So we put that out there and the NCAA said, 'OK, we'll accept that.'
"We're not arguing the rule. It is what it is. I told the team for whatever reason nobody seemed to care the last few years. But it seems people are watching us."
Swinney said staffers worked out a different schedule with the team in light of the ruling. Players will have position meetings tonight, a team dinner and a walk-through, which the 39-year old head coach says is not considered by the NCAA as an on-the-field (practice) activity.
"We'll get a lot out of it. It might even be a blessing in disguise," he said. "We've got a big scrimmage in the morning and then Friday afternoon we're going to have a team function, a little outing planned."
Swinney said the team practiced a little longer than normal Monday, as a result of the Tigers having its originally scheduled second practice of the day taken away. The team had been slated to end workouts at 11:30 a.m., following a start time of 9:30. The Tigers were not done until after 12 p.m. Monday. The previously scheduled evening session had been slated to begin at 7:30 p.m., with an end time of 9:15.
Swinney said the ACC front office has since sent out an email to all of its schools' compliance directors informing programs of the ruling.
Clemson is preparing for its season opener on September 5 versus Middle Tennessee. The Tigers are a 21-point favorite over the Blue Raiders.
Tigerillustrated.com will have much more from Monday's practice later this afternoon and into this evening.
***
To chat with other Clemson fans about this article please visit The West Zone message board.