A Decade Of Dabo: The Venables Story
As we look back on a decade of Dabo, here's yet another mystical layer in this too-good-to-be true story.
Here's yet another example of Phillips setting in motion something momentous.
Let's go back to the fall of 2008, after Tommy Bowden was out and Swinney was in.
Phillips surprised everyone by pointing at Swinney that Oct. 13 day in the McFadden conference room and telling him he was the interim guy.
The AD told Swinney he wanted him to succeed, that this 38-year-old receivers coach had what Clemson needed.
But he also told Swinney and everyone else he was going to hire the best coach he could find.
And so he set out on a coaching search while Swinney was going through his six-game audition.
Message boards were in a tizzy on Nov. 11, three days after Swinney's team lost 41-27 at Florida State, when internet sleuths discovered that Clemson's university plane was headed to Oklahoma.
Phillips was going to interview Bob Stoops. That was the conclusion made by a segment of fans. Hey, Stoops was interested in the Clemson job back when he was a Florida assistant and the Tigers were looking for a replacement for Tommy West. So it made perfect sense, right?
Well, no.
The reality: Phillips was not-so-secretly meeting with Stoops' defensive coordinator at the airport in Oklahoma City.
The reality was also that Phillips, familiar with Venables from his days as the athletics director at Oklahoma State, was enormously impressed.
"I had a great interview with Brent," Phillips told us this week through his wife Tricia. "Which, frankly, created a difficult decision."
You know what happened thereafter. Swinney showed Phillips what he wanted to see by going 4-2 and bringing new energy to the team and the fan base.
But you probably don't know what happened three years later, after the West Virginia debacle in the Orange Bowl.
That nightmare, plus a third consecutive loss to South Carolina, had Swinney on the defensive with fans and media. The season was being called a failure, which really ticked him off because just a month earlier he'd delivered the first ACC title in decades. All the euphoria from that 8-0 start, with Sammy and Tajh and The Chad, wasn't just washed away by what happened at the end. That's what he reminded everyone. He also laughed at the suggestion that it'd take years to recover from that massacre in South Florida.
Swinney got rid of Steele not solely because of the 70-spot but because it was just not working. Kind of like a bad marriage.
He had his list of candidates after the parting with Steele, and then he had his guy.
Again, he won't say who. Again, it doesn't really matter.
Venables was in a sticky situation at Oklahoma. The fans were ticked that the Sooners had been lit up by several pyrotechnic offenses in the Big 12.

And Stoops brought in his brother Mike, who'd been fired as Arizona's head coach, to be co-defensive coordinator with Venables.
That sure looks like a bit of a demotion. And though Venables has never publicly confirmed this, it had to feel like one too.
This led him to think about maybe seeing what was out there, possibly leaving his comfort zone and trying something new after 13 years under Bob Stoops in Norman.
He'd watched Clemson from afar and liked what he saw. He was intrigued when he saw how Swinney coached, how Swinney wasn't afraid to be himself and yell and scream in those post-game interviews on the field. There was a joy to Swinney's style that made Venables smile.
Clemson's Defense Under Brent Venables
| YEAR | TOTAL YARDAGE | NATIONAL RANKING |
| --- | --- | --- |
| 2012 | 396.23 YPG | 63rd |
| 2013 | 356.7 YPG | 25th |
| 2014 | 260.8 YPG | 1st |
| 2015 | 313 YPG | 10th |
| 2016 | 311.5 YPG | 8th |
| 2017 | 276.7 YPG | 4th |
| 2018 | 261.2 YPG | 3rd |
Venables didn't know Swinney. But he knew the guy who interviewed him for the Clemson job back in 2008.
"I was kind of down the road on a different path," Swinney said. "Terry Don just brought me a note. He said, 'Hey look, do with it what you want to. But Brent reached out to me and said he'd be interested in talking to you if you are interested. He said he likes watching y'all every time you're on TV.'
"I told Terry Don: I'm kind of on a different path here. But I'll give him a call. I appreciate that.' So I just kind of put his cell phone number in my pocket."
So Swinney got home that Thursday night, thinking more about the recruiting visit than anything. He told his wife Kathleen he was going to call this Venables guy from Oklahoma and the chat probably wouldn't take long.
That was at about 9 that night.
"We talked for three hours," Swinney said. "Literally three hours. I mean, Kath was out there for a little while but then she was gone to bed. It was three hours of conversation."
By the end of the call, Swinney was smitten. He told Venables that he and his wife Julie needed to come to Clemson and see the place.
The next night, Venables and his wife were in Clemson. The football team had just wrapped up its end-of-season banquet at the Madren Center when Swinney walked to the lobby of the Martin Inn to welcome them as they checked in.
By the end of the weekend, Venables felt like this was the move he needed to make. But the decision was still gut-wrenching. He still had to go back to Norman to tell his boss, a guy he basically considered family, that he was leaving.
He also had to deal with Swinney telling him he couldn't bring any assistant coaches. He wasn't merely straying far from his comfort zone, both figuratively and geographically.
If he took this job, he was coming all by himself.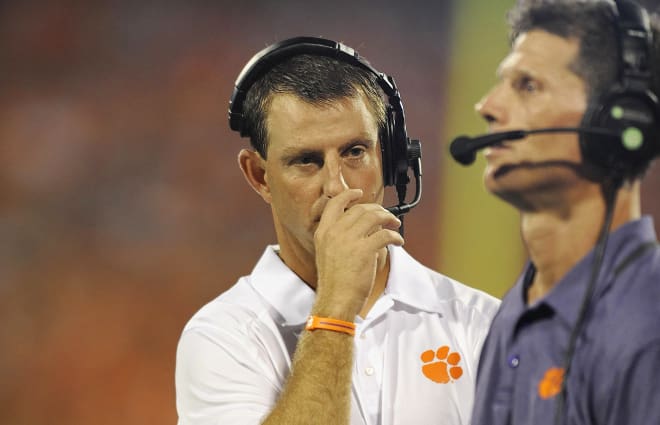 "It was a crazy situation, because I loved my staff," Swinney said. "Ain't no way I was getting rid of Marion Hobby and Dan Brooks and Charlie Harbison and those guys."
Talk about a leap of faith for Venables and his family. Clemson might as well have been on Mars.
Here's what Swinney told him that weekend:
"No, you don't get to bring nobody. I hire everybody. Nobody hires anybody here but me. We've got to understand that right out of the gate. And you'll thank me later. Because these are all great men and great coaches."
Swinney now: "It's been kind of neat to watch that all transpire, because he loves our staff."
Lincoln Riley, Bob Stoops' replacement, just fired the key figure in Venables' 2012 revelation to maybe start looking around.
Defense has been Oklahoma's main problem since Venables left.
Defense has been the main constant during Clemson's rise to greatness under Swinney.
And it all started in an Oklahoma airport when Terry Don Philips was interviewing a coach for the job Swinney wanted.
Not Bob Stoops. Some guy named Brent Venables, the guy whose cell number was in Swinney's pocket that 2012 day when he thought he'd already found his guy.
You can't make this stuff up.
"One day I'm going to write a book and people ain't going to believe it," Swinney said. "It'll be a fun story one of these days. It'll be a great read, no doubt about it."
As if it's not already.
Not a subscriber at Tigerillustrated.com? Sign up HERE for exclusive, unlimited coverage of Clemson football and recruiting!