A Decade Of Dabo
THE WEST ZONE message board | SHOP NOW: DEALS on CLEMSON apparel
In March of 2003, Bill D'Andrea got a call from Danny Pearman.
The two had been together at Clemson in the 1980s when D'Andrea was a coach and Pearman a player.
Now Pearman was an assistant at Virginia Tech, and he was calling D'Andrea to tell him about a new guy who was interviewing for a job coaching the Tigers' receivers.
ALSO READ: Monday Insider | The Clemson Dubcast: Bill D'Andrea
That was the first time D'Andrea, then Clemson's senior associate athletics director, heard the name Dabo Swinney.
On that interview, first-year athletics director Terry Don Phillips wanted D'Andrea to spend a few minutes chatting with Swinney. Pearman, who was with Swinney at Alabama for eight years when Swinney was a player and then a coach, told D'Andrea about Swinney and his family. He said he was there when Swinney's first son Will was born.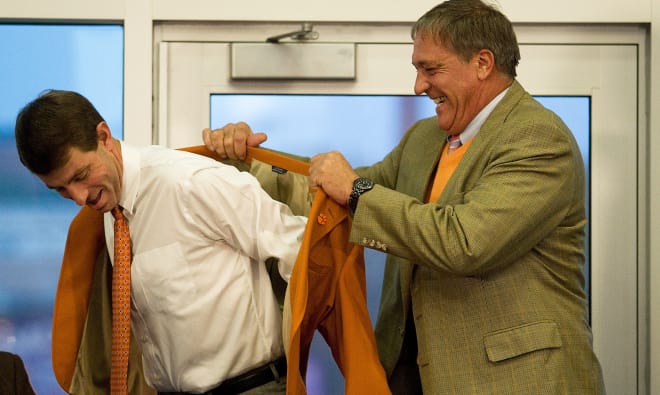 And as you'd expect, it didn't take long in that initial meeting for D'Andrea to observe that there was just something different about this 33-year-old guy who was getting back into coaching.
"Dabo just had an engaging personality," D'Andrea said. "He was giving up a pretty lucrative job in real-estate development. He knew he wanted to coach. It was his calling. It was a brief interview, kind of chatting back and forth about who knew who.
"Terry Don, for some special reason, had his eye on Dabo ever since he came here."
These little snapshots, which didn't seem all that important at the time, have such gravity now as we think back to all the things that had to fall into place for this incredible, irresistible story to happen.
Why yes, it's been 10 years. A decade of Dabo that began on an October day when Tommy Bowden decided he didn't want to continue coaching knowing he'd have to win the ACC's Atlantic Division to keep his job.
That day was Oct. 13, so the official 10-year anniversary will be this Saturday. But we'll spend this week revisiting the most momentous transition in Clemson's football history, and D'Andrea is a good place to start.
D'Andrea's buddy, Phillips, recently suffered a heart attack. So in recent weeks D'Andrea has been monitoring his progress and hoping Phillips will be able to return to their weekly lunches with other assorted former athletics department staffers.
D'Andrea was Phillips' right-hand man on coaching searches, a sounding board and confidant when important decisions were being made. He was the man who put that orange jacket onto Swinney's shoulders in December of 2008 when the interim tag was stripped from Swinney's title.
D'Andrea, now retired after serving for three years as athletics director at Anderson University, remembers the coaching search Phillips conducted while Swinney was auditioning for the job. He remembers names like Gary Patterson, Will Muschamp, Lane Kiffin, Brent Venables and Bud Foster.
But he also remembers that glimmer in Phillips' eyes whenever Swinney's name was brought up.
And not just during the coaching search. Phillips' fascination with Swinney long predated that tumultuous time in 2008.
"A lot of times I'd go to Terry Don's office late in the afternoon and I'd ask him if he wanted to go out to watch practice," D'Andrea said. "Sometimes we would go out together. But if he wasn't going to go and had something to do, he would say: 'Make sure you look over there and watch the receivers and watch Dabo.'
"I look back at those comments and I think Terry Don really knew that Dabo was special. He had that authenticity and that sincerity. He got on his kids when they didn't do him right. But he also hugged them up. I'm sure Dabo knows X's and O's, but he has that special category of caring for people – a care that's just broader than football."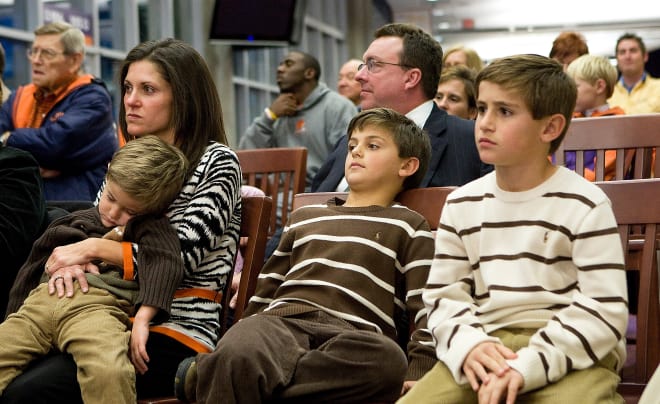 Fan morale was in the ditch in October of 2008. A 12-7 loss at Wake Forest on a Thursday night dropped the Tigers' record to 3-3. A season-opening curb-stomping at the hands of Alabama and a home loss to Maryland made a mockery of the Top 10 ranking Clemson sported entering the season.
Swinney was far from the obvious choice. He was an obscure name even to many of Clemson's own fans, and there were two former head coaches on staff in Brad Scott and Vic Koenning.
The previous season, Bowden flirted seriously with Arkansas. Phillips ended up working out an extension to keep Bowden from getting on that plane to Fayetteville, but afterward he told us he would have considered a Clemson assistant had Bowden left.
We just assumed he meant one of the coaches who had experience running a program, probably Koenning.
Nope. His eye was on Swinney even then.
Back to 2008:
"Here we were, hiring a coach that wasn't even a coordinator," D'Andrea said. "There were a lot of people in IPTAY that had e-mailed me saying they were leaving because we were making a bad decision. He didn't have the experience."
Even on an interim basis, when he was guaranteed nothing beyond the final six games of the regular season, Swinney made a priority of connecting with fans in ways that Bowden had not. The first Tiger Walk, which has become ingrained as a celebrated pregame ritual, was before Swinney's first game against Georgia Tech.
"Dabo was inclusive," D'Andrea said. "He brought the institution together. He invited faculty to practice. He brought the band out there. He just did things that – some people might view it as a marketing opportunity, but those were things we needed at that time. There were a lot of people who were disappointed."
Indeed, in a short time Swinney connected with supporters in a way that Bowden never did in nine-plus seasons. Clemson fans want someone they can reach out and touch and relate to, someone who speaks their language. Bowden just wasn't that type of guy.
He never seemed to let his guard down. His successor never seemed to have his up.
"I think Tommy Bowden is a good person and a good coach," D'Andrea said. "He certainly came from a good family with his father being successful. I think he knew about recruiting. I think he knew about family. But there was some element he was missing. He just wasn't as sincere and authentic as Dabo was, or as some of the other coaches I knew.
"There were a lot of complaints from donors, not so much that they didn't like Tommy. It was that Tommy always appeared to have somewhat – he didn't take the blame. It was, 'We didn't make a first down,' or 'We missed a kick,' or 'Two plays away.'
"I think most CEOs in leadership positions, when they have that responsibility they take that ownership. I sensed that he knew he was responsible, but what I think he needed to do is come out and tell the fans: 'The buck stops here with me.' I think he had a hard time sharing that.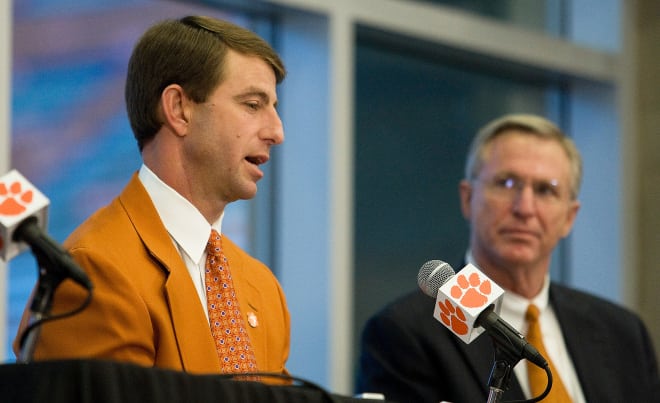 "Dabo is able to reach down and touch your soul. Where Tommy was only able to touch the skin."
D'Andrea said one of the first moves Swinney wanted to make upon getting the job was hiring away Ellis Johnson from South Carolina. Swinney and Koenning did not have a good relationship, and Swinney had long been close with Johnson.
D'Andrea called down to South Carolina to ask about Johnson's contract and was informed the buyout was $500,000. That was too steep for Clemson, so Swinney then pursued John Chavis but lost him when LSU paid him big money Clemson couldn't match. Kevin Steele ended up coming to Clemson, and that marriage seldom seemed to work well over Steele's three-year tenure.
So a lot has changed, because at the moment there's no way Clemson would let half a million bucks get in the way of a coach Swinney wanted. Venables, arguably the top assistant in college football, is in his seventh season at Clemson and is earning more than $2 million a year.
In January of 2006, D'Andrea was on the university plane with Swinney and running backs coach Burton Burns. Southern Cal was a giant in those days, and Reggie Bush was a force-of-nature running back for the Trojans.
"Y'all need to go get a tailback like Reggie Bush," D'Andrea told Swinney and Burns.
Their reply: "Oh, we've got one."
That was the first time D'Andrea heard the name C.J. Spiller. Swinney was solely responsible for selling Spiller on the notion of simply going to Clemson for a visit, let alone signing with the Tigers.
Without Spiller, maybe Bowden is gone sooner.
Without Spiller, where is Swinney in October of 2008?
Where is Clemson now?
The what-ifs sort of take your breath away, don't they?
D'Andrea remembers hopping on the team buses for a road trip during Swinney's audition.
One of Swinney's new rules was everyone had to dress to the nines when the team traveled. No more warm-ups or sweatpants or whatever else the team was wearing before he took over. Swinney was going to go out doing it his way, and a big part of that was first-class representation of the football program.
Phillips and D'Andrea were sitting near the front of the first bus when the head coach walked up the stairs. He was followed by his wife Kathleen and their three boys.
Phillips leaned over to D'Andrea and said: "Look at that beautiful family."
Look at this beautiful decade.
A decade of Dabo.
D'Andrea: "There was just something that gravitated Terry Don to Dabo, whether it was divine intervention or what."
Not a subscriber at Tigerillustrated.com? Sign up HERE for exclusive, unlimited coverage of Clemson football and recruiting!