THE STORY OF BRENT VENABLES
What do you know about Brent Venables?
Like, what do you really know about Brent Venables?
The surface-level persona is engrossing and enchanting enough.
The love of Clemson and its surroundings, the ability to grasp just how good he and his family have it at the top of the college football mountain even if his name is not at the top of the organizational chart.
Become a subscriber at Tigerillustrated.com!
The all-consuming focus and fire that is evident not just on game days, but also when he is fully immersed in preparation and concentration on a challenging opponent.
The utter joy he shows after a challenge aced, the pride for and in his players who have given him everything they've had not just physically but mentally.
The appreciation for the head coach's mandate to luxuriate in the fun that must come with the winning.
The common sight of him losing himself in the moment so thoroughly that there is a get-back coach charged with keeping him from incurring penalties for venturing off the sidelines.
ALSO SEE: The Story Of Brent Venables Part 2 | The Story Of Brent Venables - Part 3 | The Story Of Brent Venables - Part 4
He looks and acts the part of a maniac, and since he's at Clemson you love him because he's your maniac.
A litany of opposing fans are substantially less enthused to see that guy on the opposing sidelines, gesturing wildly and pumping his fists and yelling as meticulous study of an offense's tendencies culminates in the now-common sight of his players seemingly knowing exactly what's coming.
So the average fan looks at the 48-year-old Thomas Brent Venables and is thoroughly satisfied by the story that has been told thus far, a story of great defenses year after year after year and a story of a man at the top of his profession even if he doesn't occupy the top office in his program.
Venables appears so consummately fueled by his job that it would be logical to conclude he is defined by his job.
But there is so much more to him and his life than that.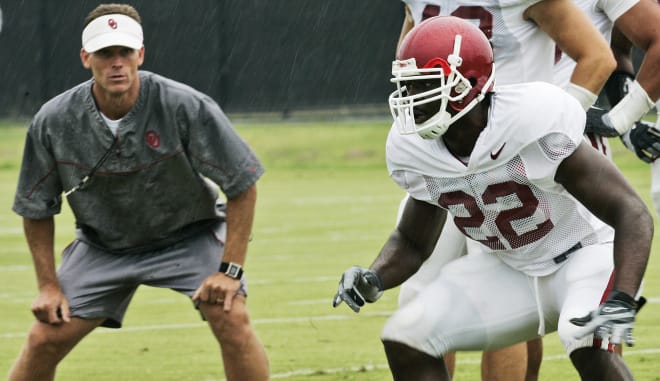 In October of 2008, Dabo Swinney sat down with Tigerillustrated.com and told his tumultuous, heartbreaking, heartwarming life story.
Venables recently agreed to open up about his own dysfunctional upbringing, and how he dealt with tragedy that struck when he was well into a successful coaching career.
Some of the details he is sharing for the first time and aren't yet known to most people, including his own boss.
Rather than composing our own take on Venables' story, injecting our own voice and interpretations, we opted to get out of the way and let him tell it all himself.
Here is Part 1 of Brent Venables' life, in his own words:
I guess we'll start at the beginning.
I was born in Homestead, Fla. My biological father, Ron Venables, was in the Air Force. He was a fighter pilot. When I was about 2, he decided he didn't want to be married anymore. My mom really didn't have anywhere to go, no real options. I was the youngest of three brothers.
My mom had grown up in a really strong Catholic family. Her siblings all went to college, and her parents were really strict. I guess my mom was the wild child and decided she didn't want to go the route of her siblings. She just wanted to get married. So she didn't have anywhere to go after my dad left her.

So the Air Force sent us to Salina, Kan., where there is an Air Force base. They just kind of dropped us off there. My mother's parents lived in Lincoln, Neb., which is about four hours from Salina. They bought a house for us, on 703 Marvin Ave.
I don't know a lot of the details from that time because I was 3 years old. But she had to figure out what she wanted to do. So she starts picking up odd jobs and whatnot, just for survival money. She was a really, really hard worker. She was the one who taught me work ethic, making the best out of your situation, taking whatever circumstances you have and making them a good thing.
So it was a struggle growing up, but I really didn't know it was a struggle. I thought the way we lived was normal. My mom didn't want to accept the assistance from my grandparents, but she did because she knew that was the only way she could take care of her boys. So they would send her $400 a month. I remember the check was always $400, and my grandparents would always write "No booze and no cigs" on those checks.
And then my dad would send another $400 a month for child support. There would be a check from the government every month for that. So $800 was our monthly income, plus whatever money my mom made from whatever odd job she was doing.
My mom would work at whatever she could get ahold of. She would work part-time jobs. She did everything. She would do drywalling and she was on stilts when she did that. She'd be mudding, and I remember many times I'd go over and feel like I was helping her. She did sheetrock and fixed houses. She worked at a Chinchilla farm. She was a secretary. She worked everywhere. She worked at a soda fountain, or what we called a pop shop. She did just a little bit of everything. Painted houses, you name it.
I had four stepdads growing up. The first one was very abusive, very physical. There was a lot of domestic violence. I don't remember a whole lot about him other than you just did not want to screw up around him because you knew what was coming if you did.
We always had animals growing up. That's the one thing I remember from the time of my first stepdad, Cecil. We always had animals and we always went to parks. But man, you were always on eggshells when Cecil was around. It was a really bad situation, and I felt bad for my mom. She would always try to see the good in everybody, and to try to fix people. That was just her nature. And beyond that, she was just trying to find some stability and support for her family. So she picked the lesser of two evils, and I'm sure that was really hard for her. But it was a really, really bad situation with Cecil. Multiple times the police would come over and arrest him. Just really bad.
Then I had another stepdad. His name was Jack. He was pretty steady as far as working and whatnot, but he had a drinking problem and was also prone to domestic abuse. He verbally abused me and my brothers. He was really kind of bi-polar.
Again, for us this was really just kind of the norm. It was just a process of trying to manage it. I know I didn't like it. I didn't like the bad things, the verbal abuse and the alcohol. But I liked not having to worry about paying the bills or getting the electricity turned off and things of that nature.
I was still really young then. Jack kind of left me alone. He was more abusive to my two older brothers, for whatever reason. I guess I didn't pose as much of a physical threat to him. And maybe I wasn't as smart as my brothers and just more naïve. He was into everything, from hunting to fishing. He owned a drywall company, so he brought stability to the household with his income.
So that went on for six or seven years, and it finally ended with a gun incident at the house. We had a gun go off inside the house. I was asleep at the time, so I don't really have a recollection of what happened. When I woke up, he was gone. One of my brothers took me and showed me a hole in the floor. Maybe he was threatening my mom and pulled the trigger and it went through the floor.
I remember always begging my mom to get rid of him, but she told me she didn't know how. It was our house that he lived in, but how do you go about kicking somebody out of your house? For so long she just didn't have the heart to do it, but she finally managed to do it after the gun incident.
When my mom finally kicked Jack out, he threatened to kill her. She had to go stay in a safe house for a few weeks. Meanwhile, my two brothers and I stayed with friends.
After that was over, my mom found another guy. His name was Jim. He had a full-time job, but he also had a drinking problem. And also a verbal-abuse problem. So it was pretty much same old, same old. I think at that point my oldest brother Kirk just started to resent everything. He wouldn't be around as much. He didn't like anything that was going on, and in his mind mom was choosing Jim over us. But from her point of view, she was lonely and trying to fix people. This was another guy with a lot of problems, but he had a full-time job.
Even while we were dealing with all that, mom was making sure we had whatever the popular trends were at the time. Whether it was clothes or shoes or doing fun stuff like going to the movies, going on vacations to Nebraska or Colorado, or going camping at the lake, we were always doing something. And I grew up always loving the outdoors, because those were the times when everyone was normal. When we were camping or hunting or fishing, everything seemed fine. So that's probably why I thought that the dysfunction, the abuse, the alcoholism, going to bed crying and hoping things would be OK when I woke up in the morning, was the norm. I just didn't know any better.
We went to church sporadically, a Baptist church. The kids were always wanting to go to a Catholic church because that's what we were around when we were with our grandparents, aunts and uncles. My mom grew up Catholic, so we were very intrigued by that. We went to a few masses. But we really liked going to the Baptist Sunday school and the buses would come. A different colored bus would come by and pick us boys up. But at the time, we really had no strong understanding of being a Christian, and what faith can mean to your life. So growing up, I was always intimidated by my friends' families who made that a normal part of their lives just because I didn't know much about it.
I played varsity football my freshman year of high school. I was starting to get some confidence. I was growing. As a freshman I was 6 foot and 190 pounds, so that was pretty big. My older brothers were really, really good football players. Kirk was a senior when I was a freshman. Ken, the middle brother, was a sophomore when I was a freshman. So we all got to play together for a brief period of time. That was really cool.

Sports were such a big part of our lives growing up. I always played baseball. My mom would always sign us up for soccer. My mom couldn't be there for most of the practices or games, so that's when I started relying on the coaches to get me where I needed to be. I had to walk to practice a lot, the ones that were close enough. The practices that were across town, somebody would come by and pick me up.
The reason I loved sports so much was it was all positive. There was a lot of encouragement. I always had good experiences when it came to athletics when I was growing up. And I was always pretty good at whatever it was. I met a lot of friends that way, and there were a lot of coaches who were really good influences – male figures that would bring out the best in me, just very positive and encouraging. So I always looked at coaches as great role models and people that I really admired and respected. And I thought at that time that coaching was something I'd potentially want to do when I grew up -- at the very least be a youth coach and help out and things like that.
Holidays brought out a lot of dysfunction at home. That was an occasion for lots of good food, lots of friends, but a lot of drinking. I remember I didn't like the drinking part. I was always just holding my breath, thinking: "Please don't crack that first Old Milwaukee can." Because when it started flowing, it would always just progressively get worse with people passing out and all sorts of other stuff. I knew I didn't like it. It was embarrassing, and I knew it wasn't right. I begged my mom not to do it. Sometimes she'd be able to hold off, and other times she'd give in to it. She just couldn't help herself. There were a lot of nuclear meltdowns over holidays.
My mom loved to cook, man. My brothers' friends would always come over. I'd have some buddies come over. She'd always cook enough for the whole neighborhood. So she was an awesome cook. But whenever she was cooking big, she was always drinking big. Most of the time, she wouldn't eat because she'd pass out before she could ever eat. That was always tough.
I never once thought about turning my back on her. I always just wanted to help. I tried to manage it. At a certain point you knew it wasn't normal, but it was our normal. Even with all the dysfunction, there was always a lot of love. I grew up always pulling for my mom and always having great admiration and respect for her. I never resented her, because I just felt like I had some wisdom knowing how hard it was on her to fight that fight. With her only having a high school education, it was hard for her not to try to find someone to rely on.
In the summer after my freshman year, one of my mom's friends that I saw somewhere had mentioned to me that Jim hit my mom in front of some other people at a bar the night before. This was a Saturday evening, early evening, 5 or 6 o'clock.
So I got into my buddy's car and we drove around until we found where Jim and my mom were, at a bar. I remember thinking that this was a moment that was way overdue. I remember telling myself in the car: "This is going to stop now. I'm big enough and old enough that I'm going to help my mom. I'm going to give her a way out."
I went into the bar and asked Jim if he put his hands on my mom. He said he did and asked me, "What are you going to do about it?" So I beat him up in front of all his buddies. And that was pretty much the end of that relationship. My mom got in the car with me and we went home. She was just really quiet.
So my mom kicked Jim out of the house, and then her last husband was another man named Jim. Really, really good guy. Had a great job. He was a hard-working guy that just made my mom happy. This relationship started my junior year of high school. He was just a very positive, encouraging guy. He drank a little bit, but he wasn't too abusive, at least not early on.
So things were going much better for my mom. She was still jumping in and out of jobs. She was a secretary for an insurance office for a good while. Her first car, which she drove for a long time, was a hand-me-down from her dad. It was rusted out everywhere. I was riding a bicycle everywhere until I saved up enough money to buy a moped.
So much of her work ethic rubbed off on me, watching how she always found a way and always had a positive, can-do attitude around us kids. I had so many part-time jobs back then. I as a busboy at Village Inn. I worked at McDonald's.
Probably my favorite job was working for three different grocery stores through those years. I loved the stocking and carrying out groceries just because I could see people. I always had a really positive, outgoing attitude, so I always liked to see people and be outside, carrying their groceries to their car. My grandparents made an arrangement that whatever I saved on my own, they would match it as long as I put it in a savings account. That motivated me so much. I was always working.
Then I got a job selling newspaper subscriptions for the Wichita Eagle-Beacon. There was a gentleman who worked for the paper and hired a bunch of people my age, and my brothers had started working for him too. So you'd get $6 for every subscription you sold. He'd take you to a neighborhood, and you'd go door to door. You'd have your spiel ready.
And man, I was so excited to make that first pitch: "Hello, my name is Brent Venables. I'm with the state's newspaper, the Wichita Eagle-Beacon. How are you doing today?"
Those first few times, I remember the person in the doorway would say, "Hey, slow down!" If they didn't slam the door in my face, they'd tell me to calm down and go a little more slowly. But I got the hang of it.
That was a big time for coupons. People that lived in the world that I knew, you clipped coupons all the time out of the weekend paper. So we claimed to have the most coupons in our weekend paper, $200 worth. And then people started tripling your coupons at the grocery store with discounts and stuff like that. So that was always a popular thing.
We would not only travel around Salina selling those subscriptions, but we would go to Junction City, Abilene, Clay Center, Hutchinson, Fort Riley outside of Manhattan. Fort Riley was always a hot spot, because that was an Army base and people were always coming in and out of there. Wives and husbands there always wanted a newspaper, and they wanted coupons. This was a newspaper that covered everybody, and we would kill it selling those subscriptions. I was really, really good at it. And I had a few buddies that joined. We called it "The Crew." I had that job for three or four years from middle school through high school. On a good week, I'd sell between 30 and 40 subscriptions. That was some good money. I'd spend some, but I always saved a lot.
The skating rink was my fun thing to do other than sports. That's where I was every Friday and Saturday night in fifth, sixth, seventh and eighth grade. Then I got to high school and it wasn't cool anymore. The skating rink was a great place to go. It was safe, and I could be around my buddies and just have a good time. It was a way to compete. I was fast. I saved up money and bought my own skates.
I was always a social kid. I had a lot of buddies. And there were a lot of really good families who were great for me. I think they probably felt sorry for me when they took me in. But I was always very personable. They'd give me rides and feed me, and I'd stay the night. Let's just say I had a lot of best friends. For me personally, I felt like I had it all and just had a few issues at home that I wasn't proud of. I was proud of my mom, but I just knew that it wasn't right. So I didn't ask too many guys to sleep over at my house.
I was good at football, and it helped to follow my brothers who had left a really strong reputation. And I loved baseball. Man, I loved baseball. We didn't have a baseball team in high school, though. There was a travel baseball team, but we didn't have the kind of money to sign up for that. So that's why I started dedicating my time to football.
I did do track all through high school, wrestled. I loved music. My mom had some beat-up piano she got at a yard sale. Our garage was such a wreck, but she had a little space in the garage cleared off for that piano. And man, she was so talented. She could play everything by ear. She loved singing. Music was always on in our house. The radio was always sitting in the kitchen on the counter, and it was always on.
My brothers were always into music, singing. Kirk was first-string all-state on the bass, and he liked to play the drums too. Kirk and Ken were very musically inclined. My mom would also play the guitar. She'd take that with her when we went to the lake, and she'd play it at home. She'd say: "Boys, come sit down and let's sing some songs." We'd say, "Aw, come on mom." But if I could talk to her now and ask her about the music, I think she would tell me that was what kind of helped her get away from all of her own problems. We would have a lot of fun doing that. Just a really great memory.
Mom loved to go to the Drive In. She loved scary movies. She loved the holidays. All of them were a big deal. She'd make us costumes for Halloween. She didn't like to buy the costumes at the store. She thought they were cheap and not authentic. So she would always come up with cool, fun things for us to be for Halloween. She would go broke buying us presents for Christmas, making sure that we got everything on our list.
I remember one year I got some Air Jordans, the first ones that that were red and black. She just found a way. What is it called when a check bounces, a hot check? She'd write those checks and say, "I know this is going to bounce but we'll figure it out." She would never say no. I would always feel bad when I was going out with a buddy or something and asking her for $5. She'd be like, "Well can I write a check?" She didn't ever want us to do without. Man, she wrote a lot of hot checks when we were growing up. She was an awesome mom. Just snake-bit, so to speak. That's kind of how I've always looked at it.
Going to the grocery store was always kind of hard, just because you have a little bit of pride. I remember going with my mom, because she didn't want to go alone. I think she thought her kids kind of helped shelter her from the embarrassment. I remember going to get the government cheese every two weeks, a big block of cheese. It was free cheese. So we ate a lot of cheese sandwiches. And I remember using the food stamps. None of us were proud of that, but sometimes you've just got to do what you've got to do. So I've always had a soft spot in my heart for people who don't have things easy. Because I know what that's like.